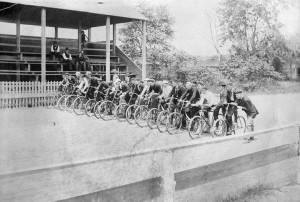 The blog question always comes up early in any meeting about Search with a new client. Why? Should? How? Who?
An awkward moment. Everyone in the conversation is trying to imagine a blog about work, or they're thinking of recent roadblocks. We make aluminum horse trailers. We make medical packaging. We sell accounting software. Our Blog is not working. We couldn't sell the CEO on it. Nobody at the company is available to blog.
Sometimes blogs are simply dead – most recent post 8 months ago, etc. I can also tell when organizers have surrendered. Posts end up looking like promotions, filled with sales language and falling flat on the social web. They're like fake smiles…easily ignored. It's no wonder that nobody links. Nobody subscribes. And it starts to make sense that, despite their power, corporate blogging is on the decline.
I have a somewhat unconventional suggestion that can bridge the gap between blog paralysis and success.
Fuel the Effort with Passion – Learn The Ropes with a Personal Blog First
To me, a prerequisite to running and promoting a blog in a business is to first do the same with a personal blog. The subject should be something you have strong feelings for. Darren Rowse put it well saying that it should "align with your life." This might be your hobby, your cycling sport, your travels. The activity should be something you look forward to already. Blogging about it should, at least in a small way, give you the same positive feelings. We're creating a vehicle to make the journey of learning to blog enjoyable.
Tom Glocer, CEO of Thomson Reuters, started his blog because he was personally interested in social media and citizen journalism. There are basically two ways CEOs can learn about emerging technologies, he says. One way is to hire a consultant or commission a study. But Glocer preferred another approach: he decided to plunge in and learn it himself. "As I experimented, I found I liked blogging," he says. http://chiefexecutive.net/the-view-from-social-media-should-ceos-have-personal-blogs
Because you are motivated, you'll keep it up. It's the effort that will make you learn the ropes and be successful. You'll start a feedback loop of effort and rewards, and you'll begin to recognize the way a successful blog "feels," to yourself and others And you take a special interest in getting it spread around to keep these rewards flowing.
I run two "personal" blogs – one about metal detecting (loved since I was 15) and one about corneal transplant (I had one March 2011.) I'm very informed about both topics and enjoy sharing my thoughts to others. I actually have to sometimes peel myself away from them to work on client work. I link out liberally and promote my stuff in forums, on Facebook and more. And, best of all, people *love* them. I get many emails saying how they've helped or how they look forward to posts, tickling the reward centers of my brain, making me feel great. I will sit down to try something that makes it better then look up at the clock and see I've been at it for hours. It doesn't feel like effort. As Mark Ivey said in a post for Social Media Explorer "Things just fall into place." You learn how to get in the zone.
I'd like to ask that you avoid "blogging" sites like Tumblr and others which encourage photo/caption only posts. To really get a sense of how blogging works, you should use a full featured offer such as WordPress.
Low Risk, High Reward Plants the Seeds of Competence
When your actions are fueled by a passion-driven feedback loop, creating and spreading your content should come naturally. And, importantly, it can be a joy to read and irresistible to link to by others who share your interests. You'll have some tools to learn, but honestly, in 2012, they are as easy as email. Along the way, you also master the mechanics of blog promotion – links, trackbacks. anchor text, blogrolls, categories and tags. All of these things make sense when they are your expression allies. But most of all, you understand that magic moment when thought turns to idea turns to post turns to engaged conversation.
Since the effort is a personal one, your stakes are lower. You can, as Neil Patel says, "Show passion, not perfection" and keep the velocity high with little fear of screwing something up. Nobody needs consulted about what you're writing, who you link to, or what you say. Keep the ideas flowing in small, imperfect chunks. Some will suck. Some will shine a light for a new direction. You'll get better every time. The point is that each time you post you'll pick up new ideas and skills. When that powerful site links to you and your traffic triples, you'll be hooked. I had one of the world's largest metal detector manufacturers link to my hobby site, and traffic soared. It was a lot of fun.
Bring the Skills to Work – Or At Least Know Who Can
This excitement and tool mastery can transfer to your company intuitively and help you do the actual blogging or identify the people, the topics and the outreach which makes sense. What are our goals? How will we measure? Who should do it? How often? What subjects? These questions are no longer abstract because you've done it on your personal blog – the learning curve is behind you.
After you've succeeded at your own blog, you'll recognize (and probably defend the concept) that the only type of blog that works is one created by individuals – not corporations. You'll likely start to see why the old plan didn't work. Each post is by a person, with a name, a point of view and a personality, not by corporationX. You'll have developed a natural gag reflex for corporate speak and promotional language being injected into social media. You'll understand why Google and others are embracing Authorship based search rank and rewarding individuals with higher ranking and more exposure. These same individuals will be able to flourish on LinkedIn, in Klout and other professional online environments as they refer to their work. If you can tap this, your social media efforts will begin to spread. Your engagement metrics will start to swell. People will begin to connect the only way they know how – with other people. And the trust that is built by someone following a proficient individuals' ideas to their online presence is transferred to the brand (their employer) they embrace. Everyone wins.
Orbiting Your Marketing Message
It's unreasonable to expect that the rank-and-file of your company will blog about aluminum horse trailers with the same passion as their lifetime model train hobby. Blogging for work is still work, and you'll need to locate the "pockets of passion" that exist within your company. This might mean that the authorship of your posts is rotated regularly. Unless the founder is burned out, they can be an excellent consistent contributor. With your personal blog experience, you'll recognize who and what topics. This is quite difficult, and I think impossible without the personal blogging experience.
The resulting work posts should have some of the same qualities as personal blog posts (interesting, link-worthy, fun) so this requires some flexibility. The work posts may only connect with marketing messages by a thread. It's okay, and possibly required. In some ways it's like the difference between a painter and an illustrator. The horse trailer company may have someone who blogs about a beloved horse, never mentioning the trailers. But the reader will connect the passion for horses with the company's products without needing to force it.
A greeting card company may talk about the use of calligraphy in 18th century invitations – a deeply rich topic – and the admiration about the talent and craftsmanship of those old days is transferred to the brand itself. This is FINE. The blog is not about sales, and you should allow it to orbit your marketing goals, not chained to them. Here's where the skills developed in blogging for yourself will give an intuition of where the sweet spot of relevance is. The blog doesn't have to have a sales posture at all, and probably shouldn't. You have an entirely different side of your website dedicated to closing the deal (right?)
Where's the ROI? So, this all sounds nice but how do you sell it? Allowing your team to develop powerful authorship rankings drives authority to your brand. This may happen through social scoring or, more likely, through inbound links to their content. And inbound links are the essence of ranking well online, accounting for perhaps 60-70% of what Google/Bing look for. Remember the calligraphy example? If this post draws in 50 links from around the web, this link equity is transferred to your sites' top-level-domain and then it flows into all areas of your site, including the sales portion. Basically the tide lifts all boats, and that includes your ability to rank for target keywords.
And as your site rises in search, traffic rises. Attention by journalists and bloggers rises. You also build a library of content that can be referenced during the sales process or subsequent social media activities. Your staff's pride and morale improves as they build up their personal brands. And most of all, you've allowed customers to connect with your team as people – which I think shows us the future of online marketing.
Image used via Creative Commons CC 2.0 Attribution by jordanmit on Flickr.