Today I saw an article on ReadWrite that caught my attention…"Blogging declines across Inc 500" which referred to a study from Umass called "Blogging declines as newer tools rule."  The number dropped from 50% to 37% of companies maintaining corporate blog.  Facebook and Twitter, in the meantime continue to grow.   This stands to reason – blogging is hard damn work.  Blogging for link building is hard as well.   But it's a terrific formula for search ranking… and Facebook does not have nearly the power.
I'm sure that another issue here is that blogging itself is not directly tied to ROI or the buying cycle in the eyes of an average executive.  To ask them to consider the SEO-foundation they are laying by a series of strong posts instead is truly a tall order for the marketing executive being asked to justify their existence every day.   The engagement layer of Facebook is more immediate and requires less effort from customers, so "likes" and comments are interpreted as engagement, without regard to how "lightweight" this engagement is.   Nonetheless, this is seen up the org-chart as customer engagement as a success "53 likes on that story!"  It's a direct connection – right now and easy to understand with numbers.
The 2011 Inc. 500 executives report the biggest drawbacks to using social media in their company are:  Time, resources, risk and measurement.  Many talked about the time it takes to create content and keep up with updating and posting on various platforms.  The issue of funds or personnel for the social media effort was cited as a major drawback as many of these companies are relatively small and dedicated social media teams were not possible.  Some companies cited negative reviews or negative comments on their sites to be of concern.  Measurement continues to be an important issue in the social media arena as many companies look for effective indicators of ROI.   – Umass study
The SEO-centric blog is not a easy thing to do – and has none of the immediate gratification.  So, blog authors are often misguided in their choice of topics – ignoring target keywords, links and trackback opportunities.  They are either creating promo-posts (tolerated on Facebook, but not on a blog) or content that has no resemblance to a SEO/web marketing vision.   A simple example…there is little keyword strategy with most blogs.  I developed a keyword roadmap that I ask my clients to try to follow when choosing blog titles and anchor text so that GoogleBot puts their content in the right bucket.   Even with this spoon feeding, and pointing out how they can rank for any well-chosen keyword, posts still get put up without considering this plan.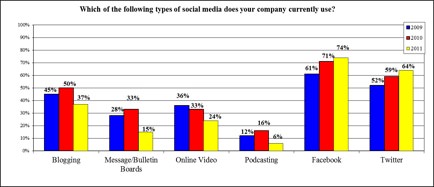 chart: Umass
Three-fourths of the companies are using LinkedIn and Facebook and social media tools are seen as important for company goals. Ninety percent of responding executives report that social media tools are important for brand awareness and company reputation. Eighty-eight percent see these tools as important for generating web traffic while 81% find them important for lead generation.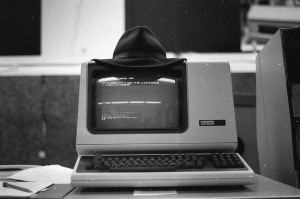 Facebook and the Google Link Graph
My primary reason for suggesting blogs to my clients is for link building and authorship benefits – an essential component for any organic SEO program (yes, even in today's "search in your world" environment.)  The corporate blog gives you the vehicle to post content that you can then refer to inside of social networks, especially other high authority blogs, and acquire links which can boost your ranking.  Facebook may give you a vehicle to post content to users, but it does not have the same rank-boosting capability of the corporate blog or website in Google- the link graph is not the same.   Bing does include Facebook posting as one of the major modifiers of their search results pages, but they also have 20-something market share.  This may feel like a subtlety – but referring to your posts on Facebook is far different than substituting Facebook for your blog posts or web articles.
Now, Google+ has further raised the stakes of blogging as a strong tool as Google+ evolves.  Google's "rel=publisher" and "rel=author" functionality have given us a whole new set of rules for tying together an author's authority and ability to impact Search Results pages of their network.   In some ways, these are becoming as important as links, at least within the network circles you establish.  An authoritative author can "own" the search results pages for a vast network of followers just by tagging their content properly.   While you can post your content on Google+ and have a good impact, I will argue that the sweet spot here is Google+ reference to a corporate blog that has properly been set up for Google+ tags and +1s… for B2B companies, add in a good dose of wise LinkedIn use.
This could change for sure.  Google may integrate Twitter and Facebook into the author-rank graph and all bets are off.  Then, in theory, corporate content moved around on Facebook and Twitter would suddenly have similar influence on the SERPs.   I'm not holding my breath.
So, if Facebook and Twitter pages are replacing corporate blogs (and Facebook has no relationship with Google search results) it seems to me that companies who master the Google+ world and stay in the blogging game stand to have a real advantage.