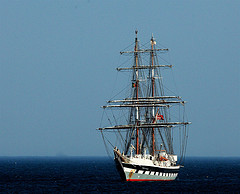 There is plenty of buzz out there about how the economy is slowing. Companies will begin pulling back on expenses and unfortunately cut on staff, too, if it gets worse. But smart companies know that there is no better time to surge forward and leave competition wondering what happened.
Social marketing, with authentic messages, is the most important recession-time marketing tool any company can have. But waiting until a real recession to try it is a huge mistake. Now's the time to get involved. But involved in the right way.
The trouble is, many companies jump into blogging, digging, and you-tubing blind and clueless, hoping that the magic beans will carry them into the clouds. An old-marketing approach to spreading the word will not work in today's social sphere, but you'll still see it – blogs that read like press releases and TV commercials posted to youtube without tags of any type.
Successful Social Marketing can give protection against economic downturns. But it's not easy – and it requires a change in the way you think about customers, communications, and the very core of your business model. With a constant application of authentic, easy-to-spread messages, you encourage distribution of the message.
You already know if you build it, they won't come. So, how are you going to get people to join in your social media effort? What is the best way to identify key blogosphere influencers that might already have access to your market(s)? In which communities/listservs will you place 'moles'? Once you identify them, how will you engage them to make your destination attractive to them? How will you increase the 'shareability' of your blog/podcast? – Lena Wes
For one thing, authentic messages go further down the customer's consideration cycle than average marketing messages. Especially if they have an anchor – such as a specific example close to home or a highly visual image that sticks. This makes it easier to re-tell the story to others, without worrying that you're inadvertently feeding bullshit. If your customers join the conversation, they can spread the message for you – the most economical and effective marketing method available.
Those applying social marketing methods need to know about the people whose behavior to change as well as their relevant beliefs, behaviors and attitudes in context of social and cultural factors influencing behaviors. By knowing this first, the marketing message can be designed to spread naturally, and inexpensively, between marketing mavens.

People distrust old-school marketing messages – and they're trusting them less all the time. So while you may feel as if you're "putting the word out there" – people may not be buying it. If you can't afford to put the word out there in an authentic way, you can't afford to do business today. You're wasting your marketing dollars pushing messages that do not work.
Lastly, those who take the time to integrate social media with market segmentation techniques can have a multiplier effect on the post-click element of this process the same way raising another mast of sails does to a ship.
photo: Pedro Simões