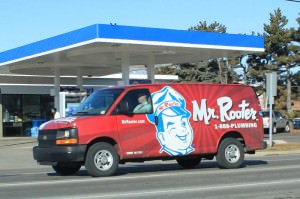 The recent Google update (nicknamed "Pigeon" by the search community) for local results has impacted many.. but service area businesses are thus far seemingly getting the brunt of the changes, dropping off of the local packs in search results.  The question (to be determined as of this writing) is if changing these results to standard organic results will help or hurt traffic.   Many heatmaps I've seen seem to indicate that local packs have usually had higher CTR…but some of that data is dated, and I've not been able to do good comparison measurement just yet.
Interestingl, at the Whitespark.ca blog, Phil Rozek noted that Google seems to be including service area businesses in local packs if the users include "near me" in their queries.  Aha?  Is Google onto something here?   We have seen a huge drop in local pack presence also (nearly 100%) so I decided to pull some historical data from my client and see if "near me" was commonly used among the searching public.
Since we cannot see keywords any more in Google Analytics, I used Google Adwords search term query reports to grab key phrases from around 1.6 million impressions.  I then extracted the phrases, which totaled 4360.  Filtering a bit further, 46 used the word "near" in their queries.   Lastly, "near me"  accounted for …exactly  Zero.  That's right, none.
1.6 M impressions.
4360 long tail phrases used
"Near ____" used in queries 1% of the time (city, zip, etc, in the blank.)
"Near me" used in queries 0% of the time.
When Google released its Hummingbird update, many observed that some of its primary improvements were to facilitate voice search by breaking down intent and linking subsequent queries with context.   My thoughts are that if "near me" is going to be popular, it will become so by offering great results in voice searches or Google-Now-Style active searches based on recent activity within the Google Account in question.
The SEO industry immediately started considering what changes in the knowledge graph with voice search being ubiquitous might have on keyword habits, click through and rich snippet display.  If there's a time to build a new habit among searchers, this change in searches is a good time to do it, I guess.
So where is Google going with this whole "near me" thing?  Hard to say.  For restaurants and bricks-and-mortar retail, the "near me" idea is obviously a good one, as shown in many demos and analysis.  But I feel that Google is heading the wrong direction with home services and real estate – two of the most important "go where the customer is" industries in the USA.
Many of these businesses choose to hide their addresses in Google Places because the address is not a place where they conduct business with customers.  Many park their vans in garages/warehouses well outside the city limits to save on rent but do all of their daily work in cities… near the searchers… the office location doesn't matter..    Perhaps someday SABs will be able to feed their current location into a live feed (ala Google Transit) so customers could, in fact, use "near me" meaning "near me right now."  That'd be cool.
Plumber image used (cc) under CC Generic by University of the Fraser Valley