Highlight:  SEO and Paid Digital Marketing Are Priorities in 2019-2020
One of my favorite industry documents is the CMO Survey .  I always look at it as a decent indicator of where the industry is going and what seems to be driving trends, so I can help clients wisely adjust their own programs with good information.  I always look at it from an SEO/PPC point of view, as well as budget related insights.
It comes as little surprise that digital marketing is a huge priority, but the paid video number is disappointing. Companies struggle with the development of internal resources and knowledge for this, and so there has been an uptick in marketing training that seems to be part of efforts to shore that up.   I have noted in other research that the proportion of Instagram posts becoming video is increasing overall, but a network breakdown is not available in the survey so it would be hard to know to what extent that is driven by brands without more research.
One point of confusion:  It's not clear to me if organic SEO falls under "Paid Other" (it must) or Paid Search.  I think that paid search likely refers only to paid search campaigns in Google and Bing.  I've reached out to the survey author for clarification.
Lag in Video Prioritization Represents Opportunity as Google Parses and Surfaces Video Content
I see a healthy 13.6% on paid search, 8.4% on display and 9.8% on social but I'm really, really surprised by the ongoing lower prioritization of paid video (4.3%.)  Video feels like a major opportunity every time I look at it, and I would love to see my clients find a formula to allow them to create personal, high quality video assets.
This represents a production challenge for many businesses, despite substantial improvements in outsourced solutions (SaaS and turnkey editing) and that's on top of the issues with building content production assets overall at most firms.  With advances in Search Engines surfacing video content and podcast content, this represents an opportunity for 2020+.
Social Media's contribution to company revenue remains low and flat, another figure likely related to internal content resources and skills in using the medium.  I would also think that challenges with outsourcing to competent providers plays in (the barrier to entry is very low,  affecting results that impress enough to prompt more investment.)   The survey does not say if  that includes social retargeting, but I doubt it does.
Social Media Struggling To Contribute (but Faith Persists!)
It turns out that faith in Social Media remains, with 23% of survey respondents indicating they for Social to account for almost 1/4 of marketing budgets in the next 5 years – but I don't really buy it… this will drop as soon as teams hit the content production "headwinds" I see in my work.  Still, spending on mobile is climbing fast, which always bring social media marketing with it, so we'll see.

Social Media Contribution to Marketing Performance – via cmosurvey.org
Marketing Spends as Percentage of Revenue – lead by Digital Marketing Budgets
Marketing budgets rose to a higher level than we've seen lately, with a large chunk of it in digital.  With looming downturns in the news, this is good to see, as some firms slow their marketing spends due to squeezed budgets.  Perhaps more are taking the very good advice that marketing and advertising are still very wise even when the economy hiccups?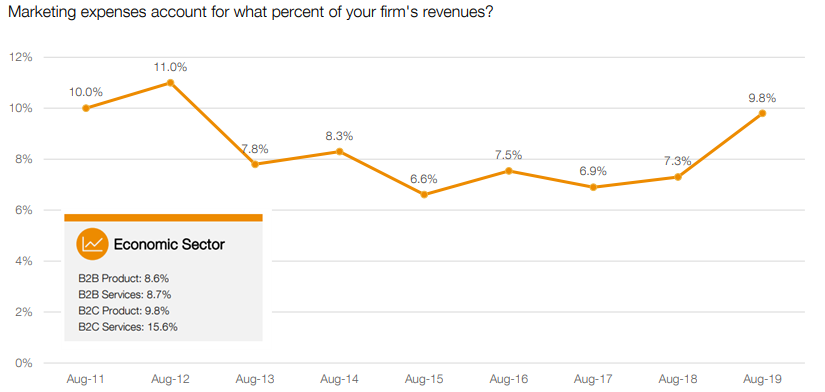 Marketing as a Percentage of Firms Revenues – source cmosurvey.org
Large Deviations from Marketing Investment Trends Can Spell Trouble for Firms.
In discussions with prospects, I consider it telling when their marketing spend varies greatly from this trend data.  It's natural to see variations, but if the spend is a fraction of this, it can represent a significant competitive disadvantage via costs of inaction.  Of course marketing budget can be spent wisely or foolishly, but assuming overall competence in competitors' efforts, a 2-3% marketing spend can spell trouble.
CMO Survey uses survey data was from 300 mostly VP level and above marketers