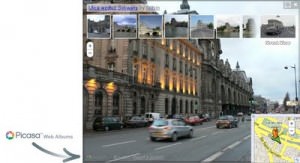 Google has finally connected Google Local Business Center and Street View to help people identify businesses by location and photograph. This is just another step along the way to full augmented reality using digital compass, GPS and camera applications.   This, combined with the new Picassa photographs on Street View (cool as hell) and we'll finally start to be able to make accurate plans for our bricks-and-mortar business visits before driving there.   We can look at the restaurants' interior, see the smiling staff, photos from the menu, etc.   A Photosynth-like zoomable image could let us choose a table we like, or see the outdoor patio in near-3-d realism, all from our desktop or mobile phone.
I can see this as a huge opportunity for tourist towns as more people plan their trips online than ever.  Rental beach houses, for example, are notoriously hard to learn about from owner-provided photographs.  Those doing a good job on Google will have an advantage.  Even here in Kentucky, where tourism is a big deal too, horse farms, distilleries and vineyards could make a good impression through this method.
So, when will Google begin showing ads for the business with the street view? When will I, as a competitor be able to purchase ads when the competitor's facade is front and center on someone's iPhone, Car Navigation, or Android Phone? It's not far away.
So if you want to put your best foot forward, you need to get yourself a good camera, find a sunny day, and get clickin'