They say playing the lottery is a "special tax" for the "math challenged." I think that's true. In the search world Google's new Automatic Matching setup is a special tax on the uninformed advertiser.
What I'm hearing about the new Google Automatic Matching beta is that they will look at unspent funds in your account, and "spend it for you" on terms its algorithms deem appropriate. I blew this off at first thinking it sounded like a rumor, but am now hearing more buzz about it.
Some advertisers received this note (I have not verified this note with Google!)
I'm excited to tell you that you have been selected to participate in a beta for our new automatic matching feature which will be starting on February 28th.

Automatic matching automatically extends your campaign's reach by using surplus budget to serve your ads on relevant search queries that are not already triggered by your keyword lists. By analyzing the structure and content of your website and AdWords campaigns, we deliver more impressions and clicks while maintaining your current CTRs and CPCs.

For example, If you sold Adidas shoes on your website, automatic matching would automatically crawl your landing page and target your campaigns to queries such as: "shoes" "adidas" "athletic", etc., and less obvious ones such as "slippers" that our system has determined will benefit you and likely lead to a conversion on your site.

Be assured that automatic matching will try to never exceed your budget. If you're already meeting your daily budgets, automatic matching will have a minimal effect on your account.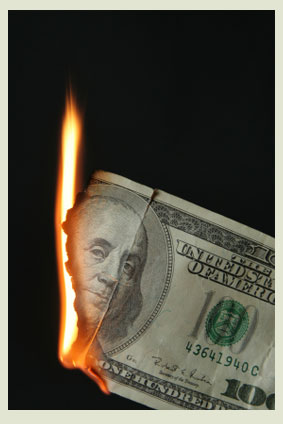 It sounds like Google is saying "If you aren't going to use our keyword research tools, we're going to use them for you." If I don't sell Adidas slippers on my athletic shoes website, I'm going to be rather ticked off to spend money on it, especially when I've optimized my landing page for athletic shoes.
This is the difference between having someone help you who's on your side, versus someone who's on Google's side. Last Summer, I let Google "optimize" one of my very small campaigns (yes, I saved the existing one!) and it was a fiasco. The campaign was set up to broadly snag tire-kickers who were not even remotely interested in the offering. But it would spend every penny of their budget, every day. It was optimized for Google – not for me.
One of the most important things about pay-per-click, pay-per-call and pay-per-action marketing is how it "curve-fits" demand and gives you the ability to control how tight or loosely you surround a niche. Optimally, you're only getting calls or actions relative to the actionable interest the public has in your offering.
Well-written ads and landing pages can increase efficiency and reduce waste. If you do good work on that, you are able to market right at your potential and control things very precisely. You can then take your remaining marketing budget and spend it on other high-value activities, such as SEO or Social Media marketing. Google rewards relevant advertising with a quality score, which in turn improves your position and reduces your costs per click. These motivations have kept PPC marketing "honest" – meaning you either succeed by doing great marketing work or you fail (big) by being lazy.
It sounds like this may be turned on without users knowing it….like the way Google handled the Content Network setup (default=0n). A while ago, Google set up content-bids, and then they improved reporting, it still makes little sense unless you truly know what you're doing.
Every client coming to me desperate for help with Adwords spend has content network on (without knowing it) and using broad match – showing ads in places that seemed "plausable" but which returned horrific return on investment. Fixing those problems provides immediate benefit, and setting up a long-tail keyphrase arrangement can turn a money-burning adwords campaign into a profit center for the customer. No, Google doesn't make as much money this way but my clients see dramatic improvements. When you know what you're doing, opting into the content network may make sense.
caveat: These comments are all qualified by "I've not tried it."
Postscript: AdwordsAdvisor posted in WebmasterWorld these comments.
A few quick comments, as I see this subject is generating quite a lot of interest and speculation:

* First off, I have already passed your feedback along to the right teams – so your comments and concerns have been heard – and will continue to be heard.

* Please be aware that this is a limited beta test, available as an option to a small number of advertisers.

* Future plans for the feature will certainly be influenced by feedback from folks who participate in the beta. So if you are one of those invited, who then choose to participate in the beta, please be sure to comment early and often.

* Advertisers offered a spot in the beta may certainly turn off the feature if they wish.

* This feature is not intended to 'exhaust the budget' – rather it is only meant to deliver additional traffic where performance metrics such as CTRs and CPCs stack up well against the adgroups current CTR and CPC. If there is no additional relevant traffic to direct to the advertisers campaigns, automatic matching will not spend additional money.

* The queries will appear in Search Query reports.