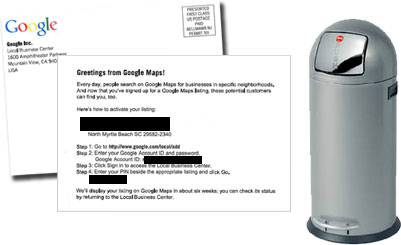 I've been amazed at how hard it is to get a Google Local Business listing (Google Places) verified.  Google will call the company and offer the verification code or send a postcard.  For many businesses, the postcard gets lost or thrown away.  I'd estimate more than 25% lose the card.
The phone call option often goes to voice mail and/or a receptionist who doesn't know what to do with the code, or it simply doesn't work for other reasons.   The SMS option isn't always available, and doesn't always work and the bulk-upload process is really meant for, um, bulk uploads.  I think a tremendous amount of waste could be removed if the notifications were more "in tune" with the real world of a busy small business… where the "thud" of junk mail on the receptionists' desk is a daily event.
I'd like to propose that Google, in combination with Google Checkout, offer a "premium" verification option, where the code is sent in an important-looking envelope that will get the attention of the mailroom.  It might even be good to have the code sent via Fedex/UPS/USMail tracable services.
The "envelope option" could be set up to cost, say, $3-4.  The traced carrier option, perhaps $7-9, depending on what rate Google can get.  Google could charge enough to make it cost effective.  Not only would it help get the message through, but it would also give Google an opportunity to boost their brand a bit.
I'd use them every time with my Local SEO clients.
PS: Just had a client in a multi-million dollar company say he'd spend $1000 to have this process simplified, and that it took 4-5 times and 4-5 months to get some of his branch offices claimed.  Crazy.