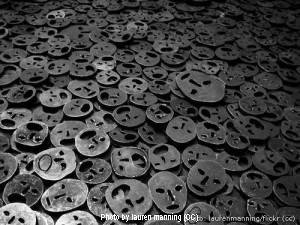 The old franchise marketing programs designed for the Internet as it was in 2005 are no longer effective.  Not only have users changed, but search engines and social networks have dramatically evolved.   As a veteran of this industry, and a witness to these changes, I decided to take a few minutes to create a list of how I'd structure a national franchise SEM program, if I had complete control and was tasked with succeeding in modern search engines and social networks.
Franchise SEO and Social Media Issues
Two main businesses… first, to sell more franchises.  Second, to accomplish whatever the franchise does – sell sandwiches, clean pools, etc.
Local franchisees are often not web savvy, and can cause reputation issues for the brand online.
Local franchisees have high expectations for marketing assistance from the franchisor and when frustrated, try to do it themselves.
Brand compliance is essential, but extremely difficult to control on a "DIY" Internet.
Disgruntled franchisees and non-compliant franchisees pose a national disparagement risk to the brand online.
Online networks and tools are not well set up for the parent-child business structure of a franchise brand.
Franchisees without physical location may have difficulty with local ranking.  Service area/van-based franchises are most affected.
Let's run through some of the components I think would help a franchise accomplish and maintain success in these areas:
Main Franchise Website – SEO and User Experience
This is the customer facing website, running on the franchise's main domain name, which accumulates the ranking authority for local and national rank.
A beautifully-built website CMS working equally well on all modern formats (responsive) including mobile and tablets.  A mobile-first approach may be appropriate for service-area franchises.  All blog and article sections should be part of the main domain name, such as domain.com/blog, not set up on a separate domain.
Local branch locator should be primary focus for the consumer experience.  The website is not the destination, the connection between customer and local franchisee is the #1 goal.
The toll-free national phone number should be large and clear, with click-to-call function enabled for mobile devices.
The phone number setup should allow for call tracking depending on campaign.
The call center should transfer phone leads to the appropriate local office as quickly as possible, making the customer feel that "something is happening" via status updates, such as email or text messages.
The best structure for a franchise website's content area is the FAQ model.  In priority order, you must build the visitor's confidence and reduce their worries by competently answering questions and making them feel important.   Google is moving towards voice/question based searches which further amplifies this recommendation.
All of these sites need fast hosting with page load times in the fastest 20% of the web.  Load time is one of the ranking factors we can control on any website and it's not time to compromise.
Broken websites risk everything, from customer confidence to search rank.   Hosting should provide 100% up time and redundancy.  Nightly incremental backups should be done with full up-time monitoring, such as that provided by WebsitePulse.   A scheduled security audit should be conducted on the site to search for malware or other compromises.  Customers should never be the ones to discover a website compromise or outage. All CMS patches should be applied after they are released.  An un-patched CMS is a vulnerable CMS.  Backups must be done before any update is performed.
Utilize a 3rd party malware detecting and cleanup firm such as Sucuri.net, and follow their recommendations.
Full connection to Google Analytics, Google Webmaster Central, and other diagnostics tools so that email is sent to a decision maker when things go wrong.  These allow you to set up alerts that catch problems quickly, ideally before any customers notice.
The mobile-facing website should be fat-finger-friendly and possibly GPS-enabled, with a task-centered design model,  not just a mirror of the main site.  Mobile users are focused on accomplishing a task, not loitering through all of your site's pages.
The mobile experience should be tied into social networks to enable check-ins and other share activities, look for opportunities during the customer experience to share with their social networks (such as "I just dropped my dog off at wash-a-doggie!" connected to Facebook with a single click)
The main website and primary domain should be friendly to inbound links.  Your goal is to obtain links from authority sites to the "porous" areas of your site.   In other words, the content created for the customer's benefit, not your promotional content.
Weave link building into every thing you do as a company.  Link scouting should be performed regularly, especially when major conferences are held or related news events happen.
Local SEO will drive authority to the main domain name (see below) and a powerful primary domain will spread trust through the entire system.
Most links and marketing activity will send traffic to the home page of this site by default, so deliberate linkbuilding should focus on acquiring "deep links," favored by search engines, to balance things out.  An example would be asking for a link to a specific blog post or article instead of the home page.
National content authors should be passionate with diverse backgrounds.   The blog posts should incorporate emotional hooks and storytelling vehicles.  In short, they should be irresistible packages of information that steer clear of the typical, and ineffective promo-post mentality.
Smart, but advanced:  A crisis-blog should be on stand-by.  Franchises are subject to online reputation issues.  If a disgruntled branch is social network savvy, they can do a great deal of damage with very little effort.  The national team should monitor the brand and be prepared with checklists to avoid knee-jerk reactions and escalation of issues.  It is always better for the brand to be the primary news source for any crisis and to dominate search engines if it comes up.
The URL for local franchisees should be kept as short as possible, making it work well on printed medium.   http://www.franchisename.com/xxxxx  is ideal, where "xxxx" is the city name or office number.   This URL consideration needs to be engineered into the CMS information architecture.  This makes it easier for customers to remember and use your website, and it makes QR codes and printed marketing better.
Next….The Franchise Opportunity Web Site
This is the heart and soul of your company's expansion.  Your often asking someone to spend their life savings endorsing your brand.  It's high consideration and probably best done in person or on the phone.  The website should make that phone call a primary goal.
A focused sub-folder microsite attached to the main domain name.  (e.g. FranchisePro/joinus)
A short, step-by-step set of 5-7 pages that provides brief answers to top questions and lead you to contact the sales team.
Casual, believable testimonial videos should be created of actual franchisees.
Companies which overproduce their videos make fewer of them.  This is a huge mistake.
Informational videos are "you, you, you" information, not "us, us, us" promotions.  Resist this trap.  If you impress people with your information, the sales is built in.
A franchise kit delivered after initial content that answers all questions a prospect would have.  Candidates receiving the franchise kit advance in the lead funnel.
The "FAQ" model works well as a vehicle for providing customers information on blog posts, webinars and especially videos.
A video FAQ series about the franchise (1 question and 1 answer per video) can be powerful tools.  You can string these videos together to create topical playlists.  Having one question per video allows you to easily link to these videos in blog posts, emails, etc.   Vary the staff member doing the answering – show diversity.   Hint: Consider including top franchisees as "answerers" in the FAQ series to mix things up.

Inbound franchise development leads should be verified, qualified and treated like 911 calls.   Strive for 10 minute response time.  Live chat may be important, but only if reliably "manned."

Provide a dedicated person to "own" a franchise development lead, and arm that person with well-considered templates for emails, follow ups, and FAQs.   Don't re-invent the wheel on every customer touch point.
For programmatic marketing and marketing automation, use dedicated landing pages for specific ad campaigns, with split testing capabilities so you can optimize the form.  Implement precision analytics to make it easy to report on what's happening.
Implement a lead scoring system to assess lead quality by source.  Regular discussions about which lead sources are providing the best quality leads should be held and adjustments made when needed.  Require your sales team to provide notes about each lead and tie their performance review to their lead scoring competence.  A short training program with sample leads is wise.
Persona /audience profile development that allows for intelligent re-marketing and targeting programs may be a good idea.  Personas help focus marketing plans, but be ready to adjust your assumptions.
Listing in major franchise directories may be helpful as they still have a lot of traffic.  Price negotiation of these placements is possible as competition and economic conditions dictate.  Always provide a "tracking URL" when signing up with any advertiser so you can isolate the lead in your analytics to evaluate its performance.
Drip follow ups should be beautifully created and optimized.  Do not let sales people write random email messages – leverage knowledge of what works and fold that back into customer communications.
A beautifully executed LinkedIn company page can capture "ex-corporate" potential franchisees.   LinkedIn can also provide highly targeted advertising opportunities.
Webinars can be very effective.  Limit the amount of content you cover at once, and encourage multiple webinar views.   Refine your webinars to reflect common questions and assume attendees are distracted and busy.  A maximum of 15 minutes per webinar is recommended.  Avoid small talk and chit chat – decide what you want the attendees to leave with and what you want their next action to be during planning.
If you're using an ad network to market the franchise, we can use remarketing to provide a series of collateral / kits as rewards for info submission rather than duplicating the same reward.  Usually you must do this with the persona and buying stage in mind.  Don't sell too early!!!!
Never run any advertising program without tracking URLs.
Set up the franchise properly with authorship markup so bloggers are given enhanced search results and "more from…" links.  Bloggers as celebrities is the future.
Set up the syndicated content so that it refers to the original using a canonical relation, this to avoid duplicate content issues.
Local Consumer SubSite / Local SEO Internet Marketing Program
Consumers have zero patience, and are task driven.   They are using mobile devices and deluged with marketing messages all day.
I say "subsite" very deliberately.  I do not want franchisees to have their own domain names or microsites.
Compliance with the national franchise's rules should be compulsory and spelled out  in the FDD and Franchise Agreement.  Firm rules and compliance criteria are essential.
No "rogue" websites or domain names are allowed under any circumstances, or the franchisee is out of compliance and in violation of trademark rules.   Franchise Facebook pages should be allowed for sharing of corporate content or other approved messaging.   The Franchise should provide an individual, centrally controlled subsite for each location that is really just an information page on the main domain name, but with specific local information.   The subsite can be reached through the office locator of the main site, or through internet searches.   The franchise corporate marketing team should maintain control of franchise subsites and all SEO, remaining on the look-out for problems such as duplicate content, poor brand portrayal and trademark issues.
The local subsites must be optimized for local searches and language.  Franchisees can submit text suggestions for their subsite to the corporate office for review and insertion.  If the subsite has more than one page, all informational content should use canonical links to point search engines to the "original" content to avoid duplicate content penalties.
No Local paid search or social media advertising should be done by individual franchisees.
Structured markup should be used on the subsite to ensure that local information such as address, phone and regional references are communicated clearly to search engines and tested using Google's structured markup testing tool.
Franchisees should give out the national brand URL in all marketing, not a local URL or other domain name.
A clear photograph should be available of the business owner with a contact email address.
Training videos should be available to the franchisees for web marketing concepts, such as how to get reviews, rank in local search, interpret analytics, etc.   These marketing screen captures should be kept up to date as this area changes regularly.
Franchisees should be subject to a compliance score on a regular basis to ensure they are following the brand guidelines.
Local Directories and Local Citations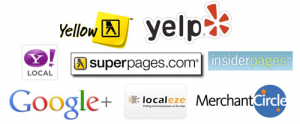 The impact of local directories cannot be overstated.  Local listings in search results are prominent, and often have customer ratings scores listed.    Local SEO is dependent on local citations and is harder to manage at the national level.
Local directory participation should be outlined as a requirement for all franchisees and discussed in the FDD and Franchise Agreement.
The franchise should build the Google+ Local and Bing pages for the franchisee for standardization.
Franchisees that demonstrate enthusiasm and knowledge about the local place pages should be given the option to claim the page "away from" the corporate office, with the understanding that they must relinquish this at any time.  This allows local franchisees with inclination to "own" their web marketing flexibility to do coupons and respond to reviews.
Claimed listings on the primary local directories, such as Yelp and yp.com, whichever are appropriate for the franchise industry sector.  Corporate should coordinate the verification process, and use postcards for verification.  15-25% of verification postcards are thrown away, so the corporate team should give the branch a heads up that the postcard is coming and to look for it.   The Franchise Agreement should spell out how each of these directories should be handled.
Local BBB listing should be required (a powerful local SEO citation) with profile links to the franchisee's local URL and the national URL (BBB usually provides two links.)   Sadly, the BBB has no good way to manage national programs at this time.   BBB participation, including responding to negative reports,  should be required part of the Franchise Agreement.
Coupons and local promotions can be powerful business builders.  Training videos and media should be available for franchisees to learn how to use these properly (Google+ Local, etc.)
Consumer Reviews, Ratings  and Brand Monitoring
Customers will use word of mouth and online reviews to decide who to work with in many cases.  Leaving this important element to chance is not acceptable.  
Responding to online customer commentary should be a requirement outlined in the Franchise Agreement.
All franchisees should be aware of how to manage and respond to online reviews.   Training videos and screencasts are a good way to do this.
A goal of 20 high score positive reviews per location on a major site such as Google+ Local should be mandatory.   No fake reviews or "bought" reviews.
A positive ratings-acquisition program should be taught to franchisees and tools provided to encourage reviews from happy customers.
System-wide monitoring of social networks and consumer ratings sites – bad reviews are cause for alert.   If negative reviews are submitted, the corporate communications team should guide the franchisee through resolution.   This might be done with free tools or a more comprehensive enterprise-level system.
Franchise CRM and Consumer-Side Lead Distribution
A Central CRM solution should be in place to send follow up content to customers and to monitor satisfaction, and all leads must be passed through this system for franchise compliance.
Paid search and national campaigns should be created at the corporate level, with appropriate geotargeting in place for local campaigns.
Optimization tools, analytics and bid management should be applied at the national level, with some reports sent to franchisees via the franchise portal/intranet.
Lessons learned during the optimization program should be applicable nationwide from a central location (e.g. campaign-level negative keywords.)
Leads should be gathered up via an "active" CRM program and distributed to franchisee locations with lead lifespan tracking.  The CRM should contain notes about the customer which are reviewed by the franchisee before a customer encounter.
You may want to incentivize high customer rankings by giving more leads to higher-rated locations.  If there is territory overlap, or no territories, leads should be distributed via some kind of internal ranking – best franchisee gets more leads, non compliant or low rated franchisees get less.
The franchisee should have full access to customer information on mobile devices in the field or at the office desk.   "Push" or SMS alerts may also be useful for certain situations.   The CRM should support this.  If the service provided is a recurring one, the CRM should send reminders to the franchisee for customer follow up.
Improving Page Uniqueness
Look for customer created content you can use that will help your page avoid duplicate content.
Reviews and ratings can be used (for the location in question, not global) so give the page more uniqueness.
Recent jobs finished list might be driven from your corporate jobs CRM tool database (scrubbed for public consumption)
Advanced:  Content Curation and Social Networks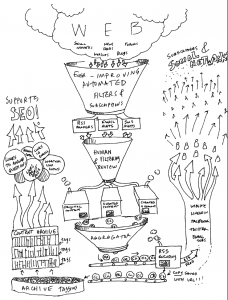 By centralizing content development and syndicating it to the franchisees, quality and consistency can be improved on local-social publications, such as regional Facebook pages. Canonical links pointing back to a central core content on the main site will be used to avoid duplicate content when the content is shared on microsites.
Generally, I recommend running the entire social media program nationally, giving local franchisees syndication rights to the content from the national brand.  They should be equipped to easily share or repurpose that content in their local network as if it were their own.
Considering that content will eventually be shared on social networks should guide the style, images, headlines and tone of messages.   Trying to create share-worthy content that is also sales content is difficult.   Few will link to a sales pitch.
Short URLs should be provided for all content sent to franchisees so they can share it on their Twitter accounts, while keeping analytics intact.The franchisees are a great source for new content which reflects customer behavior, but franchisees tend to create highly promotional content.
The content created by the franchise content team should be pre-shared with all franchisees via RSS  or email as fuel for their own local content marketing and social media effort.   This centrally created feed should provide a steady diet of high quality content to the franchisees, ready to share to their audience.
High quality stories/posts submitted from the franchisees should be considered for "promotion" to system-wide distribution (e.g. success stories in one region can be leveraged in many regions.)   Some franchises may want to incentivize this content creation activity with monetary or other benefits.  Many very good authors may exist in the franchise system.   Don't waste blogging talent at the local level – it usually dies there, while the national team is starving for great content.  In most cases their ideas applies to the entire franchise system and should be spread!
Social Media Tool Considerations
Facebook offers parent/child franchise relationships on a case-by-case basis.  This can be very difficult to get accepted into except for very large enterprises.   Someday they may expand this.
Google+ seems to be making efforts to improve parent-child relationships, but it's not quite there yet.
Some franchisees need to run a local Twitter account or Facebook page in order to provide localized deals and announcements, but so many use this incorrectly that they usually have very, very few followers.  Good training and monitoring are key to success.
There you have it.   I will update this post as I work with more franchises and learn more ideas.  In some cases I will update it to reflect new tools and changes in how social networks handle franchises. Debate welcome! If I can help your large franchise develop an online marketing program, please contact me.  I am able to accept only a small number of clients due to the scale of these projects.   fountain photo used under (cc) Wonderlane on Flickr