While presenting on Social Media this week, the question about Blogger writers' block came up again, and I realized I didn't have a post to refer them to – so here are some quick tips if you should find yourself in that uncomfortable situation.
Start out creating a Frequently Asked Questions list (FAQ.) Base the questions on what your customers ask regularly. Try to come up with 25 questions, and write short answers for each to start.  You can post these in WordPress as drafts, for example.  Work them over, tweak them, and generously link to others' supporting material – it's worth it to get the content right and avoid common mistakes at this phase.  Is your FAQ list a bit thin?  You can get ideas quickly online also – Yahoo Answers, WikiHow, LinkedIN QA, etc. can provide inspiration.   You should also carry a notebook for new ideas – they come at the strangest times.  When you're deciding on a writing style, think about what would be most compelling to your audience, and write your answers in that style.
Make Sure your Photos Work Throughout the Cycle: Photographs should be easily visible in thumbnail-sizes as they will often be shared on Facebook and other social media tools where the reduced version is what people see as they make their decision to read.
Think Front of the Envelope when it comes to Titles. Your post titles should prompt curiosity worthy of a click.  Imagine the title written on an envelope – would you be tempted to look inside to see the article?   If not, it needs work.  Some posts will be easier than others.  Sometimes if you really get stuck on a title – it's time to rethink the whole post.   Is it interesting enough to be worthy of your blog?
Amplify the Curiosity with the Excerpt. Third, for each answer, create an excerpt that amplifies the titles' magnetism.  This is what may appear in the users' feed readers, and they may make the decision to view the post based on this one little snipet.  The goal of the excerpt should be to obtain the click.  A secondary goal of the title is SEO – if you have a choice between a word that gets a lot of searches vs. one that doesn't, choose the former.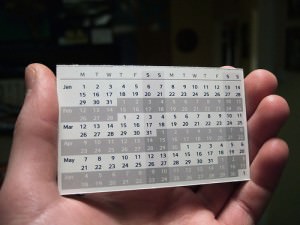 Simplify the User Experience with Categories and Tags: Tags should group together the posts logically.  When someone clicks on a tag in your tag cloud or post footer, it should cause related posts to appear in a cluster.  Posts can be part of multiple clusters of course.   Categories is mostly to guide the initial reader foray into your work, so be broad interest based and helpful.
Think Weekly – But Sprinkle In Some Variety: By variety, I mean that you should create timely posts about events in your industry including thoughtful responses to authoritative posts from other bloggers .  This not only gives you a chance to voice your opinion, but to refer to the ever-building reservoir of content you are making.
Remember – Value is the Key. If the post is a waste of time or re-hash of something the readers' seen already, skip it.  You want your blog to be so good that people cannot wait to see the next post.   Readers will tolerate 1-2 low quality posts before they start to consider unsubscribing – so you must keep your standards high.
Revisions are okay, But Keep it Under Control. You will find that things come up in your mind in the weeks that follow that you want to add to the post.  I recommend you go ahead, just don't change the whole post.  When commenters or those sharing your posts do so, they don't expect you to change what they originally saw that much.
Leverage the Google Knowledge Graph for Direct Answers as well as SIRI and Cortana voice command searches.  Finally, and potentially most importantly, think about Google's "direct answers" results.  FAQ content can be well situated for Google's knowledge graph (Question schema).  When blog summaries begin to show up in the search results, people may not even click through to your blog (while still reading a key point or two.)  While this is not ideal, it's better than a competitor showing up in that spot!
A FAQ post suited to the Knowledge Graph is likely to have this format:
A Concise question as post title – one question and one answer per post is key!  Question should be an H1 tag.
Subheading can extend the question for clarity, should be H2 tag.
Create a concise, clear answer to post a question in 2-3 sentences.  A fully satisfying answer, but short and sweet.  This is for the skimmer as well as Google Direct Answers.
Paragraph 2+ expand on this, as full answer, written in the inverted pyramid style (see below)  (200 words usually reasonable max.  Supporting illustrations / photos strongly suggested)
An invitation to the reader to subscribe to future high-value answers.
Write a re-marketing cookie for the audience as precisely as makes sense.
A "see also" link to similar answers (to reduce bounce rate and increase dwell time)
Tagging of question (so sets of questions can be summoned via a single URL in a "FAQ list" format later)
Use of the Question schema markup + "acceptedanswer" (schema.org page here)  Set number of answers = 1
There was a good discussion of this at SMX West 2015 and Bill Slawski offered advice in this interview.
There was a good discussion at SMX West 2016 with Behshad Behzadi of Google.  Voice search is the future – and it's highly compatible with the FAQ blog!!!!!
Convince and convert have posted a good post that updates the discussion with a healthy focus on buyer's journey and the "micro moments" concept favored by Google.
(CC) Photo by Joe Lanman