If you're in charge of promoting events on Facebook and you do this with regular posts, you really should reconsider.
I'm struck by how often those in charge of promoting events sponsored by organizations with Facebook pages do so with standard posts instead of events.  Some do this because it feels "easier" or they are using a pre-typed flyer or the same event announcement used elsewhere.
Facebook Events are Much More Effective Because:
They're easy to share
They have event-related information in them, such as schedule, location, ticket links
They allow you to express interest or to say you're going.
Friends see you're interested or going expanding awareness
Regular posts have terrible reach – as little as 15% of your page followers are likely to see them.
And now… You will get notifications when a page adds an event "that might interest you." 
Here's how an "events you may like" notification looks for me: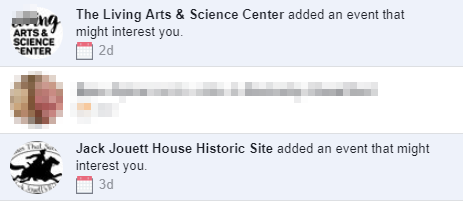 This has substantially increased visibility for events, and I would never have seen these if they were regular page posts.