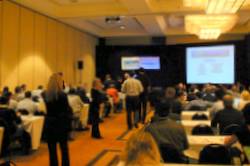 Local businesses want leads and customers, not clicks. Although pay-per-click and pay-per-call are the two prevalent ad models to reach local searchers, will other models like CPA/PPA ultimately be more effective?
(Partial Liveblogging – other presenters not blogged… couldn't get a coherant flow going :-P)
Steven Chuck, Director of Strategic Alliances, Yahoo!
Hyper Local – Mom/Pop
Do we see a day when cost per lead pay per action model takes hold in SMB advertising?
It depends on
advertiser segment,
full impact of web2.0 (ratings, etc.)
sales channel.
Why are we asking?
SMB ability to value clicks – changing with time?
Yahoo – reasons to build a website?
build awareness 72%
Present credible images 66%
providing up to date info 56%
….then, way down the list…
generate online sales 21% (wow!)
generating leads 24%
Difficulty translating click to close for SMBs
For SMB sectors advertising will always matter! Persistent branding needs are a big part of their priority. I may not be able to measure the precise ROAS, but my customers know that my ad will always be on page x of the newspaper when they need me.
Many retail / service sector need a presence in market that extend throughout the funnel. At all points of sales consideration.
Digital WOM – ratings and reviews. WOM is public!
The "AAA" SMB today and beyond. Everyone needs positive ratings. SMBs need help managing this!
Scott comment: Many SMBs have no clue. Not sold in CPL method.
72% might use dealership web site, 58% will post comments (!)
New Yahoo! Local site is geared towards more ratings!
Closest and best govern Yahoo Local now, not "AAA Plumbing"
Why the sales channel matters
Fit of online offering with current offering. Cant response response products with with reach products by adding a line item to the IO.
No overnite transitions. Sales Force can expect channels to take a while. Take a lot of effort.
Channel appetite for transparency. CPL/PPA requires a response orientation and tracking – sometimes it's hard to get people to embrace this model of transparency.
Partial liveblog.
Wal-Mart buys no display advertising – they find no value. Interesting.
How do advertisers value clicks, calls, etc….
Lots of assumptions that people are rational… but it's not true! "This is the way I do it." We are not tracking marketers by nature!
On google 1/3 of bid have no strategy, 1/3 have flawed strategy, 1/3 have a decent strategy.
Ease of use will be a big factor. Even if the solution isn't the "best"
Perhaps the tracking piece will be what differentiates the winner in the end?
Scott comment: Needs to be an extension to a CRM ..
Who is going to take on the role of educating small businesses?
(See show me the money panel)
Scott comment: yahoo ambassador / help on this?
A big chasm between lead sale and cost per action sale. Depends on sales teams doing a good job.