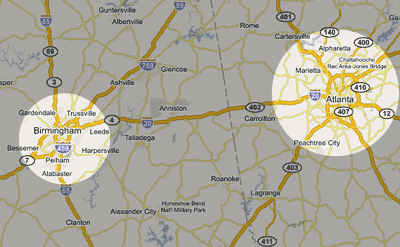 This is a liveblogging entry from SMX Local/Mobile – a conference I'm attending in Denver, CO.
This was the best session I've attended yet at the conference. Lots of great information and engaging speakers. Good questions from the room and highly relevant content. Bravo!
Moderator:
Chris Sherman, Executive Editor, Search Engine Land
Speakers:
Alex Porter, Vice President, Location3 Media
Alan Beiagi, Director and GM, Mapquest
Michael Jones Google – replaced Microsoft who didn't show
Alex Porter
Google has slowest process for getting information on the map.
Yahoo has most traffic, Idearc is second. This is one place Google doesn't yet dominate.
Superpages has pages that are overwhelmed by (often inaccurate) paid listings (shows example) Superpages says they are reformatting the page.
Each engine has different listings – it's hard to get your arms around all of them, or how the data is flowing in to each of them. But here is the process they've figured out:
Data listings come from…
22,000 phone books hand entered via offshore data entry -> axcio / infousa / amacai -> search engines / directories IYPS / local reviews
What comes back…Very basic information, sometimes it's badly outdated, no keywords, no categories no enhancement.
How can you measure ROI from map listings?
Call tracking
Trackable URLs
Tracking Coupons
However, since listings are conducive to phone calls or physical visits, it can be hard to track it.
Alan Beiagi, Director and GM, Mapquest
Role of Maps in Local Mobile Search
Next wave of user growth will come from mobile and international users. Some have never used a PC and some will never have a PC.
12M use GPS-enabled Local business Search today -> will grow to 315M in 5 years (!!)
6% of people rec'd mobile ads made a purchase (compare to far smaller # for web.)
only 15M of 233M cell phone users use data services — 85% of market remains!
Roughly 55% of handsets are GPS enabled.
A users's handset knows a lot about user – who you are, where you're going, what streets you'll cross
Mobile search revenues will climb to $1.4B by 2012
Use of Mobile directories will grow 30% this year (?? – slide went too fast)
Almost 2M access sports information almost every day.
6M consumers access restaurant info every day(?)
Spend on mobile search will go from $1.5 -> $11.3B – in 5y? (slide too fast)
Local search will grow 282% in 5y
Right now you have to go all over the place to get to this information.
Handsets are becoming aggregators (Scott's comment as I type)
Michael Jones, Chief Technologist, Google Earth, Google Maps, and Google Local Search
Jabs at Microsoft (he's filling in for them) – audience laughs "should he represent Microsoft? or Google?"
Google maps "try this" links on the bottom left change every day. They do a lot of dynamic testing.
Demo'd oblique 3d buildings on maps, and real-time traffic, waypoint changes (did not work in presentation, audience suggested he become "microsoft" for a little while. laughter)
User contributed content at the bottom of map results. People who put stuff up with location data. It's like Google Web Search for Places. (!)
Plug-ins businesses of made
"Let me do you a favor" with Google Maps. "Add to maps" – Map becomes a meeting point – a mashup.
Google Maps API – A way for users/companies/people to build new things – Google Maps Mania has 50k+
How hard is that … go to code.google.com for instructions Map examples are there.
You can see news type "clusters" that support news stories. Showed videos inside BBC Flooding maps.
You can also put business information on the map in the same way.
The value is in the overlaps – mashups.
Q/A
Can we buy ads that re-route traffic closer to our business? (audience giggles)
Routing and other map data – will not be altered by advertising. "change route to drive by my business" – this won't happen.? (Sc- I hear skepticism in the room)
How do you get enhanced data on Mapquest?
Mapquest licenses data. Mapquest has a platform that licenses data. Mapquest does deals with bigger companies. (?)
How do you handle privacy issues with satellite?
there are issues. There are some foreign countries where maps are problematic … China. Sat. photos are scary to them. All sat data Google buys is commercial data that was on the shelf.
For IYPs – some advertisers have problems with changes on map – there is a lagtime as much as 1y.. what should we do?
The whole industry acquires map data from data sources and this causes delays – QA also. They get data quarterly – The lagtime shouldn't be 1.5Y, should be a lot less than that. there can be life/death situations affected by the lagtime. It's a research problem.
Nokia buy Navteq – Implications? (Navteq in the room)
Rest assured Nokia sees location based services strategic – navteq used acquisition to get closer to industry – kept management – Navteq mgmt reports direct to CEO – keep Navteq neutral as possible after acquisition … How come Google let Nokia get Navteq? (no answer really, room giggles)
How is the uploaded business listing data verified? (vs. postcard method.) Prevent Mapspam?
These are independent programs at Google – they are trying to fix it. There are bogus streets in Navteq and Mapquest to protect copyright. For the most part map data is trustworthy, but if it comes from the wild it may not be. Google wants to mark how much they trust it. Google correlates all of it. They correlate it to believe it . When you see it 2-3 times from different sources, it becomes "real." So this takes a while. Google is going to show more map results soon in the list.
Spreadsheet to KML converters (?) — can be brought into mymaps.? (SC – check out )
Some providers do not want their own address, but they want to show up in the organic results? How can seo show their info without violating the rules of conduct?
before, you could use PO Box – Google Maps team is eliminating this as an option (!)
Women's shelters example. There is no way to put a "blob" or "service area" on the map. google needs a "place." If you have a "batcave" – there is no answer – you have to have a place. Some don't want their business listed.
You can just "pick an address" – like a park (Sc – c'mon now.)
What's the CENTER of a search in Google? How are they ranked?

Google gives the 10 highest "rated" results – zoom out a little to show you 10. So it's rounded up a bit on centering. Highest number of reviews seems to have an effect on the list's results. Google lcoal reviews are very important to them (!) BBB has a factor in the secret sauce. (!) Google Maps rebuilds data every month. So there needs to be a way to see your ad on the "new" data.? (SC – wow, BBB worth something.)
What is liveblogging? Liveblogging is basically notetaking for the world. I'm not taking the time to write perfectly because I'm listening to the speaker – taking notes much as I would on my own. I will revise these posts some over time, but they will always be quickly written like this.