Our Sub-MCC Account Setup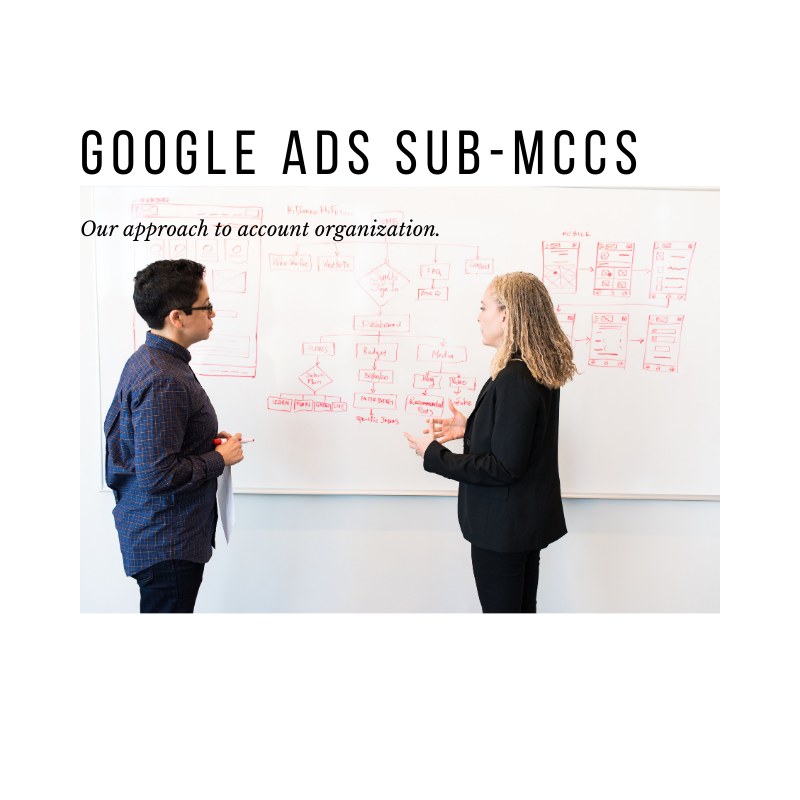 Setting up Sub-MMCs is a very convoluted process, and there are very few concise instructions on how to do it. I just set one up and took notes this time. I will come back and enhance this post with screen shots in the next one I do.
The reasons you do this is to get improved control over the assets in use for each client. Scripts scope, negative shared keywords, retargeting audiences are all sharable at the MCC.
Take note of your main MCC account number
Create an email address that will be dedicated to the subMCC administration. It will be the manager account user ID as well as an admin in the account as a failsafe. We use Gmail accounts, using the format convention: [email protected] – this is the subMCC email.
IMPORTANT: You cannot use an email address that is already an admin anywhere in the MCC hierarchy here. Gsuite users: you cannot use aliases.
Log out of everything.
Log in to your subMCC Google account created in #2. Visit https://adwords.google.com/home/tools/manager-accounts/ and click "Create New Manager Account" … enter a display name for the SubMCC (Usually the client name) and then choose "Manage other people's accounts" and Submit.
Click Explore your account. It will open into an account-less subMCC.
Sometimes things get weird here. Go to Account access and take note of who is listed as the account admin user. If it's the subMCC address, awesome, skip to step 8. If not, then you will need to do a swap. I do not know why this happens, but I think it's cache/cookie related.
Since we need to create an MCC admin that is NOT an admin on your main-MCC, we usually just use the subMCC email created in #1 for that. Once the subMCC email is confirmed as an admin in this case (leaving you with the subMCC email and the main-MCC admins in the access list.) you must/will remove the main-MCC admin so that all that's remaining in your subMCC email in your sub-MCC user list as an admin user. Whew!
Take note of the subMCC account number.
Log out of everything.
Log in to your main MCC and invite the subMCC as a manager using the ID you noted in #8. It should appear as a pending invitation.
Log out of everything.
Log in to your subMCC and accept the invitation in the account-access/manager section.
The subMCC is now connected, and you can go to Accounts -> Management and invite the client ID.
Log out of everything and then log back in to your Main MCC.
You'll see the SubMCC in your Account list, and the pending invite to the client above it.
Once the client accepts the SubMCC invite, you will be good to go!
PS: The next sub-MCC I make I will capture screen shots and enhance this post.