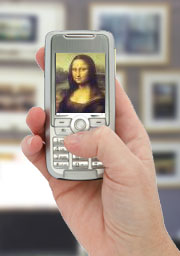 Dear Retailer who sells very nice gift items in Lexington Green. When I snap a photo of something, I'm not here to scam you.
I'm not the front for a big Chinese manufacturer who is about to knock off your stuff and put you out of business. I'm not planning out an elaborate "Mission Impossible"-style robbery.
My wife and I are multi-tasking. I need to send her a picture of something I like and see if she wants to swing by and look at it. I've spent hundreds of dollars in your store and you don't need to break the delicate positive brand image I have of you with some petty "We don't allow pictures in the store" rule. I explained what I was doing, nicely, but it didn't matter.
It's amazing that I'm even in the store – with as much as I buy online. Since it's an artsy-store, I flip the tag over on the item I'm photographing. … yep, URL. I surf to the address, yep. photos. Get a clue. This small, unique retail shop is one example, but not a unique one, and it's about to collide with new technologies for comparison shopping we discussed at SMX Local Mobile in Denver last week.
If this were a one-time situation, I'd blow it off. But it happens to others, who blog about it too. I'm pretty fast with my camera, just hold it up and snap a quick picture, so I'm not making a scene or asking people to move, etc. I guess I could get better at it. I'm also not there photographing every thing on the shelf. I'm the best type of interested customer.
Seth Godin was busted for photographing oreos, and had this to say:
The irony of the Stop & Shop approach is that the people who you don't want taking pictures–snoopy journalists or competitors–can easily conceal their cameras and you'll never know. But the raving fans, the bloggers, the folks twisted enough to want to take and flickrize their supermarket experiences are your friends.
Get ready for some cool new stuff. But will retailers allow it?
The idea is that the consumer can simply take a picture of the bar code on the product, and the phone would automatically identify the product via an integrated java program, and search the internet for related blog posts, news reviews, comparisons, etc. and report them back to the consumer in real-time to read up on the product and make sure its really the right one. Consumers can see what other people who have bought the same product really thought about it, and what problems may have occurred. Think about doing an instant price check on the product to see if it might be cheaper somewhere else, or maybe cheaper to purchase online. This could prove to be a valuable asset to price, and safety conscious people. – Justin Montgomery … Chairman & CEO of MoVa Media Co
In larger markets, such as those you find in big-box retailers, bookshops, etc., you're going to be seeing people scanning barcodes soon. New types of barcodes on products are beginning to emerge to make it easier. The iPhone, and it's inevitable competition, will be doing amazing stuff.
So if we are suddenly able to scan barcodes to get reviews, news, and pricing, how will that fare against existing photo polices of stores? For example, here's Wal-Mart's photo policy, probably written 20 years ago.
Wal-Mart's policy that all photos taken on its property must be approved in advance includes breaking news coverage. The company requires the media – or anyone else – to get approval before taking pictures in Wal-Mart stores or on Wal-Mart property. After hours, a journalist should call the company's 24-hour corporate hotline before taking pictures, she said.
A Less Convenient (but still cool) Alternative
Frucall is an online comparison shopping service using mobile phones, where you can enter the UPC code into your phone manually (rather than scanning it.)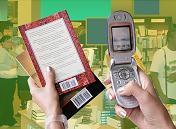 You can call 1-888-DO-FRUCALL (1-888-363-7822) from your cell phone, key in the product barcode, and listen to the best prices found online as well as merchant ratings, etc. If you're using a web-enabled phone, you can go to www.frucall.com/m and and search for products. You can watch what's happening on their blog as well.
I just put the number in my phone, and will be giving it a go.
photo: frucall
Say Cheese if you Want My Bread
On the other end of the spectrum are Art Fairs and Small Markets. Sometimes my wife and I will be in different places. I'll see something cool and want to MMS her a photo. Sometimes I'll just want to blog about something cool. This ALWAYS involves link love.
INVARIABLY the "artist" will tell me to stop it. I always say… "oh, sorry.", I say…"Do you have photos of these on your website?" … "uh, yeah." – "so, you don't want me taking low-res, hand-held photos of your stuff to send my wife, but you have a website that anyone in the world can snip images from? any logic in this, Picasso?" (I don't say the last part, because artists have it pretty rough already.)
What in the world are they afraid of? Me sending their ideas to an overseas manufacturer and making big bucks? Honestly, if there were big bucks in it, wouldn't you have already gone down that path?
You should ENCOURAGE me to tell others and blog about your stuff! It's like a big "send-to-friend" button on your product! Did you forget that Art is an emotional purchase?
Mr. and Mrs. Retailer: Encourage Comparisons, Be Special.
Mobile search, mobile shopping, MMS (multi-media messaging) and (gasp) in-store review reading and comparison shopping are taking off. People are going to be whipping out all types of devices to photograph, scan, and otherwise analyze your products. I'm a huge fan of Amazon's mobile site and Yahoo Shopping via Mobile.
If you are scared of comparison shopping then find a way to show your value. If your product is 10-15% more expensive in the store, remember the customer is already IN the store. Give them an awesome experience, and they'll forget the difference. The phenomenon of instant gratification is pretty powerful, and at that moment it's on your side!
Don't piss off people who have the web mastered. Bloggers can hold up your company for everyone to see. It's up to you to shine while you're up there.
POSTSCRIPT:
Couple banned for life from shopping centre and branded 'terrorists' – for taking photos of their grandchildren