I've been impressed with the improvements lately in digital billboards. They're very bright and are begining to rival their rolled-on competitors in daylight. Of course at night they have no rival. Lamar has a video out showing off their technology, and it's pretty impressive.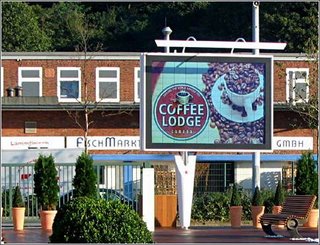 The Outdoor Advertising Association of America estimates there are 500 digital billboards on U.S. roads, compared to about 450,000 traditional billboards, so these are just getting started. They're expensive, too, often costing 5-8x a typical billboard's price. However, a digital display can generate 8-10x the revenue than a traditional billboard, according to the same group.
Now, however, it looks like chemically-altered billboards are starting to show their stuff, as shown in this article in the International Herald . I've not seen this in person, but a company known as magink has some pretty cool "organic" displays that are starting to make news. On their website they describe it as follows:
"magink's full-color digital ink is based on environmentally-friendly materials. Using proprietary technologies, magink manipulates the ink molecules to generate all colors of the visible color spectrum, including all gray levels, to be exhibited in a wide color gamut."
Now, imagine the ability to bid on the digital space like you can bid on Adsense. It's not hard – I'm sure the media placements would be easy enough to price out, and reslolution and dayparting could be built into the pay-per-placement model.
Even my little eStarling frame (please come soon!) represents a big step forward in wireless programmable display units. This thing could be rented out with placements in high traffic queue areas such as coffee shops and such as-is!
Which expands the idea even further into all kinds of flat-display advertising options. Danny has often joked about display advertising on bathroom hand-dryers. Of course having a display available in the floor of the john isn't far off, either. There are trucks with digital displays, too.
The top 20 outdoor brands (as of end of 2005) were:
McDonalds Restaurant
Cingular Wireless Service
Verizon Long Distance Business & Res
General Motors Corp Var Auto &Trk
Anheuser-Busch Var Beers
Nextel Wireless Services
Warner BrosVar Movies
Coca-Cola Var Soft Drinks
Verizon Wireless Service
Miller Var Beers
Cracker Barrel Old Cntry
State Farm Var Insurance
Geico Auto Insurance
Citibank Consumer Services
Apple Var Computers
Diageo Plc Var Beverages
Sony Var Movies
Coors Light Beer
Starbucks Coffee Store
Paramount Var Movies
So with all of these big brands getting the big spaces, there are surely lots of small to medium spaces that are untouched. These are the ones I think that a wide ad network would work well on. Targeting visitors by where they're walking, what they're waiting on, and so on, gives you a unique set of parameters.
I'm certain it's around the corner. Literally.
Update: Bill Slawski posted an interesting article referring to a patent application related to display networks and Advertising on Billboards via the web.