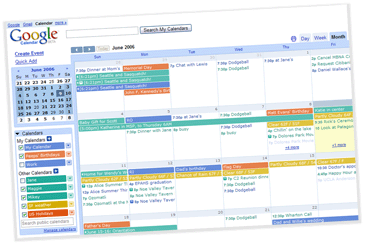 Busy parents and busier school officials spend inordinate amounts of time publishing confusing frequently incorrect school-oriented schedule information for kids. School events, sports, after-school activities, parent-teacher meetings, and community-school activities make for one full events calendar. Statistics show that parents utilize the Internet, email, and mobile technologies to help juggle school and life. Even parents who do not use the Internet much are frequent users of mobile technologies such as SMS, according to recent reports.
But most schools insist on using labor-intensive and ineffective techniques to communicate information to parents. When this information changes, the amount of work required to inform the affected parties is often too high to even bother, and so many are affected. Google Calendar launched a while ago with what I considered then to be major holes in its feature set. At least one of those major holes was recently patched – the ability to do SMS notifications on multiple calendars. In addition, the calendar sharing and printing functions were drastically improved, pushing it into a new level of usefulness for schools and churches.
11 reasons schools should use Google Calendar in 2009
The calendars can be shared or hidden to parents and students of the class for

privacy

reasons, and the system is

very secure

.

Multiple calendars can be viewed on one page (e.g. 6th grade general, and 6th grade band)

Notifications of events can be sent out by calendar automatically, even for repeated events, via RSS, SMS (phone text) or email.

Schools can turn off advertisements for the kids.

Any calendar can be displayed on the school website, and different calendars can be shown on sections of the site. RSS means that the information can be posted a huge number of ways.

Parent/Teacher conference or other invitations can be sent, and responded to, online. Comments can be entered on events and replies.

Students can each have their own Google calendar, and can super-impose their class calendars with it. Families can create calendars too, so the student has a big-picture view of their lives.

Snow-Day notifications, Amber-Alerts, and other emergency notices can be sent out quickly through SMS, email, and the school's website using an immediate calendar event.

It's super easy to print out multiple formats of calendars, depending on your style. Formats are adjustable before you print them.

Homework assignments can include links to web resources and school website pages inside the event description.

If all schools in a district use it, then parents, administrators, athletics directors and others can use the 'show/hide' calendar function to do an infinite level of coordination activity VISUALLY. Parents can look at when their 3rd grader and 6th grader have school events that overlap in a bad way. We can share the calendar with our child care provider (college students use computers ;-) and also provide event commentary to her about her schedule for the next week.
More Info
If schools sign up for the

Google Apps Education Edition

, then the kids can opt out of Advertisements, too. You'll have to be sure you meet their

terms

, but most schools will no problem. 

I would just like to see schools begin to use centralized information management to help the parent and student body better coordinate.

For a fun "black belt" course on Google Calendar,

check out the lifehacker post

by Gina Trapani, and for a few more tips there's some

good stuff

at the StopDesign blog, including some Macintosh commentary.

Check also this

Educators' Excellent Guide to "G-Day"

– or integrating Google Apps into Education
2008 Update: A few new discussions on this topic have emerged
2009 Update:
Schools using Google Apps (Calendar)
2010 Update:
2011 Update:
2013 Update: