I received this postcard in the mail today….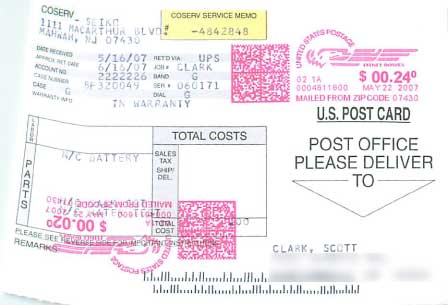 The purpose?
To tell me that the Seiko repair center had received my watch.Â
… a small suggested revision:
Dear Mr. Clark.
We received your watch in good condition.Â
It is under warranty, so we are repairing it no charge.
You will receive it shortly.
Thank You.
Seiko Repair Service
By the way: Kudos To Seiko – they fixed this watch for me fast, gave me a battery, and didn't charge me a dime. And I don't think it was under warranty at all. A local jewelry store wanted $50 just to open it, and charged me $5 to tell me that. I sometimes wonder why I even try to do business locally.