We sometimes feel desperate for the platform to innovate and it looks like some new things are being released over at LinkedIn. BuzzMaven has increasingly become a LinkedIn Ads Agency as our client base steered more and more to B2B LinkedIn Ads and Marketing, as well as ABM / Account Customer Match type audience marketing.

What's new:

Downloadable documents offer eBook marketers a fully native way to distribute their content and gather first party data using Ads. This takes the web gating landing page out of the picture, which could reduce friction to improve distribution. Gated with a normal Linkedin lead ad, the document is stored and downloaded directly from the platform. Contact information and conversion information are readily available, either with CRM or Zapier data glue.

PDF is recommended for the content (of course) but they do support PPT, PPTX, DOC, DOCx also – but we would never use anything but PDF for this.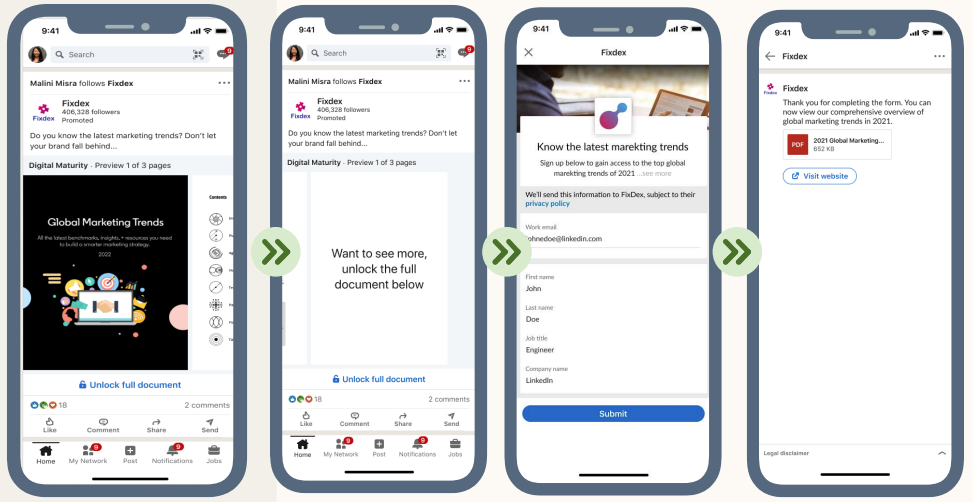 Advantages:
Leverage your content library of eBooks, white papers, infographics or presentations/PowerPoints more easily.
Collect pre-filled lead forms that gate the content using members' LinkedIn profile information, reducing fake email address problems.
Measure impact of the document using LinkedIn's ad analytics – look at impression, click rates by a number of professional demographics, even if using CPC.
Normal LinkedIn retargeting and other precision layers are available, including retargeting on open-not-submit event of the form.
Powerful potential with presenting cornerstone content only to your matched audiences or other 1st party data (and not competitors!)
Billable by CPM or CPC like other Sponsored Content, letting you decide how to pay for it.
Disadvantages
Hyperlinks are only clickable in the doc if they download it. If they view it in the LinkedIn Document Player (as most will) no links are active.
No retargeting onto other platforms since your website is not involved.
Qualification of leads may be reduced by the "auto fill" feature. This requires precise targeting.
Higher costs of the LinkedIn network must be weighed against the quality of the leads.
100 MB Limit may impact some photo-rich ebooks.

You cannot change the document after the ad is published

, so time-sensitive information would probably be better placed on a separate web page.
The LinkedIn document player does not have a search feature.
LinkedIn suggests not using multiple columns in content because it renders text too small and is hard to scan in the Player.
See Also: Linkedin's release page
Check Back: This is brand new and we will improve this article as more information flows in.
We're expert at Linkedin Ads for B2B and welcome your questions on this superb enhancement.