Google's Knowledge Panel Q&A feature is catching many merchants off guard.
Google is ramping up their Knowledge Pack Q/A program and web users are starting to take advantage of this crowd-sourced program that is very, very visible on the web.  This presents a challenge to business owners of course, but multi-location businesses are faced with an even more difficult situation.
For those who don't know this system, Q&A system allows people to ask questions about your business on a variety of Google platforms (Google Maps right now, on Android mainly, but this is a temporary restriction.)
The catch here, and it's a big one, is that the CROWD can answer and upvote the answers and questions.  The "mob phenomenon" is primed and ready to go here if you have many frustrated customers with a similar problem.  It's easy to lose control.
Here's a simple example of the owner answering a totally reasonable, relevant question in Google Maps Q&A feature.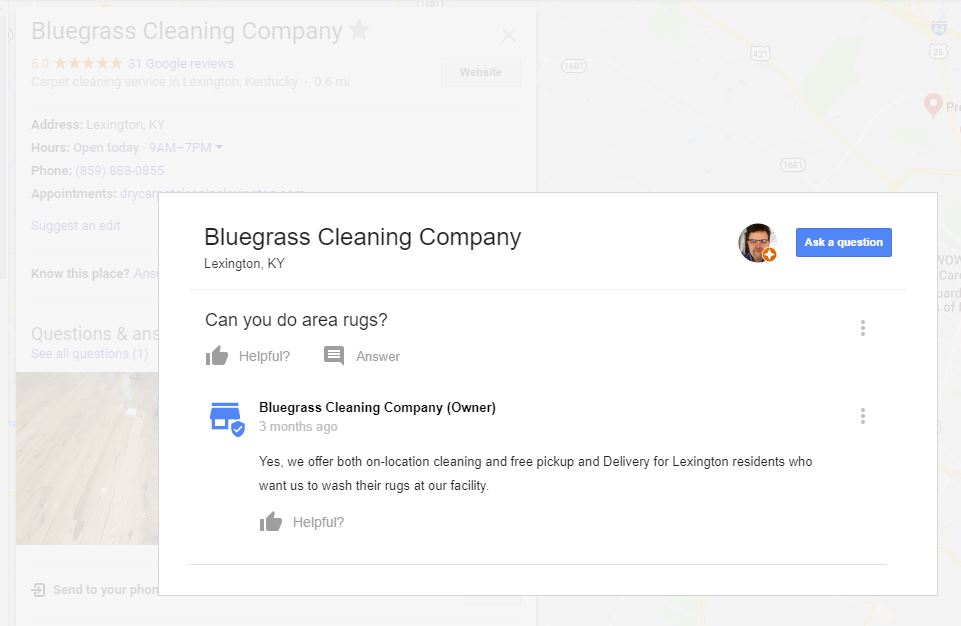 And here's an example of the "crowd" answering with multiple answers from different local guides (The owner never chimed in.)

On the other hand, here's someone just typing in a complaint as the question and moving on.

Here, an abandoned customer is, well, still abandoned

And the mob effect has kicked in on this hospital

Tip: Mike Blumenthal has some more hairraising examples.
Yikes, right?
Let's Answer Some Questions about Google's Q&A Feature:
Can you report these to Google if inappropriate?
YES.  If the Q/A conversation or answers violate Google's terms of service,  then you can report it to them.  I'm hearing that the response rate is pretty good for now, but it is mostly human driven.  But don't get your hopes up for using this as a way to keep things clean.  The forums seem full of people trying to get "complaint" type answers removed and not succeeding.  And I am in agreement with others that this is probably going to get worse as use of this feature rises and as Google tries to scale the reporting support.
As a multi-location/franchise, how do we get notified when there's a question?
From a practical standpoint, No.  Unless you are logged into a single location getting the question on Android maps, you won't get such a notification… from what I can tell, even if you're logged in to Maps android as the primary owner of a list of locations, you won't get notifications!  This has to improve.  As far as I know, there are no emails being sent to the business owner or manager.
Can a brand "opt out" of this program?
Not that I've seen.  For a while, it looked like whether you did business at the customer's location made a difference, but it looks pretty universal right now.  It's just like reviews – everyone has to deal with it.
Will this impact SEO?
I think it's unlikely, but not impossible.  Even though behavioral signals are gaining in local ranking, this one might be tough to pull in, even with Google's AI churning on answers.  Could Google give actively responsive business owners a behavioral gold star and bit of a boost?  Possibly, but again, this is a long shot.
What should multi-location brands do?
Ok, here's a good start, I think.
Make Local Offices Aware of the Feature / Activity
Educate franchisees / Local Offices on the program – do mythbusting and describe how it's evolving.
Get Local Offices Plugged In
Suggest that franchisees / Local Offices install and monitor the Google Maps for Android app, and turn on notifications for their account.  They need to be logged in with the same account they used to build the Google My Business listing.
Strategize to Steer Legitimate Questions to the QA Page (like you might steer a happy customer to a review page.)
No fakes, but feel free to suggest that customers ask actual, legitimate questions on the system and answer them in a useful, meaningful manner.
Look at your normal FAQ list – what do customers ask?  Those are likely to be upvoted, so get them on there.
If you know a specific question is frequently asked, that might be a good place to focus.  It will not only be most helpful, but most likely to become visible and highly listed.
Report questions that are inappropriate.
Familiarize yourself with the guidelines here, and here… and use the "report" feature Google Provides.  Focus on violations of their guidelines in your request.
Answer questions in-situ (instead of sending them to some other property or phone call)
Don't just refer people to your website or customer support line.  That pisses people off more than it helps.  Regulated businesses might have difficulty here.
Do not get defensive or snarky in your answers even if the questions are ridiculous
Follow good review response practices to avoid shooting yourself in the foot and starting a "mob" on your listings.
What's Next?
I'm going to predict a few things with regard to Q&A on Google:
This may eventually be worked into the GoogleMyBusiness interface and API, like so many other things.  But Google has been sooo slow making Gmulti-locationion friendly, we may be in for a wait?
This may be an entry point to Google's Chatbot platform, Dialogflow which could tap into a FAQ library That could get interesting, indeed.
It won't take long for marketers to launch negative attacks on competition through this system, and it might be hard to detect.
I think that the notifications interface will improve and tool providers will offer solutions.
 Cookie photo: Scott McLeod Used under (CC) Attribution license via Flickr