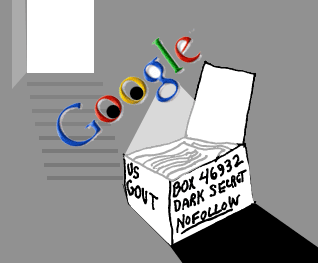 Chris Sherman wrote about Google's plan to surface government information got me thinking about what kinds of things were going to happen once Google gets into our public records.Â
First off, let's admit. Public records are "public" in a legal sense, not in a practical sense. It's too damn hard to get to them in many cases. While one could make a fuss to get your state official to dig up Box 2421-B-325 in Archive Building 3132 so you could see a certain document, how many actually do?  How would you know to even ask?
 I'll bet many things are crawling around in the deep dark archives of government. And I'll bet there are many out there that would like it to stay that way. Just like the digization of many books exposed plagerism, it's my prediction that the increased crawling of state-stored public records is going to expose many nasty things that have heretofore been hidden. The friction that one encounters to do a obtain any document, let alone establish relationships between multiple documents, could have prevented it from becoming apparent.  If Google makes it easy to hunt in the nooks and crannies, a whole new breed of hobbiest detectives might pop out of the woodwork and create watchdog mashups like never before. This could be fun.
Google's indexing and linking will feel more like "poking around" I mean, check out Google patents…. it's fun (and sometimes emotional) to pop around and discover relationships this way. Before you know it, we'll have some pretty amazing mashups developed on top of this data, so maps, searches, cross-references, and mobile services will let us mine data about our locale.
If Google goes any more local, say, to the city government level, they'll have their work cut out for them.Â