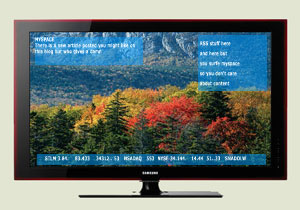 AT CES, Samsung showed off their new web-connected TV which lets you display subscribed RSS feeds (only USA Today for now) on the screen. Equipped with an Ethernet connection, they can pull RSS feeds, allowing you to customize your news, weather, sports, and more. Other providers are also working on improving this integration, but I like Samsung's approach.

Information dashboards are all the rage. I've seen executives with 5 plasmas on their wall, each displaying a few data points (and helping to heat their office) My parents would never use this, but for upwardly bound news junkies, having feeds show over Bloomberg, CNN or other incoming information sources might be the perfect office jewelry. It reminds me of what was cool about Pointcast, but using the latest tech.
RSS can of course carry rich media (it's really just a list of pointers in a package) so there is no limit to the types of textual, audio, video, and interactive information that can flow this way.
"USA TODAY is excited about this innovative and groundbreaking partnership with Samsung," said Jeff Webber, senior vice president of advertising for USA TODAY and publisher of USATODAY.com. "The ability to deliver up-to-date news content to Samsung's customers is just one more way USA TODAY is working to expand how people get news and information."

USA TODAY is a multimedia brand with print, digital, video and mobile platforms that reach millions of readers each month. USA TODAY will provide national and world news as well as keep viewers in touch with the latest in money, sports, life, weather and politics news for the InfoLink™ RSS service. The Weather section will allow viewers to personalize current temperatures and seven-day forecasts by zip code and will also feature weather alerts. Markets data will offer market summaries and individual stock quotes.

Consumers need only to press the special RSS button on the Samsung HDTV remote control to bring up a semi-transparent menu overlay featuring selectable newsfeeds covering a variety of customizable topics. Consumers can then either browse through headlines to catch a quick glimpse, or select a specific story to view full story. Content already playing on the HDTV will remain on-screen, ensuring that moments from a favorite show or a fantastic play during the big game will never be missed, all the while having the most up-to-date news, weather and more just a click away.
The big question for me is what happens when you click.
What About the Search and Social Media Players?
Google is probably watching this space, given its hopes to enter the TV Market. Imagine this being integrated into MySpace via the Developer Platform. Amazon sure blew it with Kindle as a "walk around RSS reader" by charging people to subscribe to RSS feeds, and my Blackberry Google Reader is not that great for monitoring things due to battery drain and the small screen (not to mention a clunky interface with lots of "next page" clicks required.)
I think that RSS advertisers may perk up when overlay based feeds start to become more popular.
Customization at the Source
Using Yahoo Pipes or other tools, you can customize company data feeds, or mix and blend data so that it's perfect for your morning cup-o-joe or for watching the blogosphere while you enjoy Family Guy. Or, if you want, you can use your Plasma to display famous works of art and stream news over the top when nothing's on.
I can imagine people connecting their TV to their myspace friends or LinkedIn profile. Perhaps the TV RSS Space will develop like Flock does as a social media browser, making it all neat and tidy.
Connecting TV Programs with Interactive Content and Advertisers

But think about how this could be integrated into channel surfing. Using keyword-based RSS feeds, you could be notified when something interesting has shown up on another media source (video, podcast, blog) and just "click to go" to that source. If you are a publisher, you could synchronize RSS feeds with the programs you're broadcasting so that commerce and interactive features could be tied into specific video segments. What's more, the feeds could still work with time-shifting.
The other idea is that these feeds can be hooked to software which slowly learns about the person watching the TV and delivers high quality web content along with the TV shows they're watching. This is media marketing gold, especially when many users skip commercials or simply ignore them.
If you watch a home improvement show, what if you could have the television automatically grab relevant RSS feeds when you press the button, and allow you to subscribe to them. Then, when you next watch this show it would update the feeds. Some feeds could even refer to alternative shows / videos / podcasts which might interest you.
I Hope They Don't Build a Walled Garden
But in a major step for the living room, the remote control has an "RSS" button. Wow. Just another way big media is losing it's grip over the screen. Let's see if they try to build a walled garden, or let it flow. At CSS it was USA Today Feeds Only. It would be tempting to try to monetize this early like Kindle – but I hope they'll let the platform develop on the shoulders of the Social Media explosion. Let people fall in love with it and then look for ways to integrate it into your bottom line.