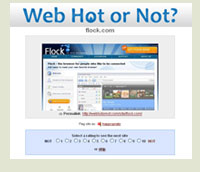 Former Technorati CEO David Sifry has launched Web Hot or Not?, a Hot or Not site for websites.
It's fun-cool, and has been done before, but it spooks me out in the world of multivariate testing and conversions optimization.
What's hot:
Studies have shown that sites get only 50 milliseconds to give an impression to users. This site may help us learn what sites are attractive and appealing in a new way. The trouble is our assessment of any site is based on the context of that site, and how it was found. Personalized search results further refine these buckets of intent so the site is more likely to be found by certain people.
What's not:
Anyone involved in web marketing knows that only through testing can we achieve the beauty of conversions and success for the site owner. To skim over websites and vote entirely on how they appear free from any other information (e.g. the search, PPC or organic, inbound link, intended audience, etc.) is to miss the point. It's true, often "ugly" landing pages outconvert snazzy flash-based slot machines 3:1. Why encourage sites that look pretty but may not perform or worse, distract business owners from testable designs? I hate to see ego-designers who spend entire web budgets on snazz before knowing if the approach is right.