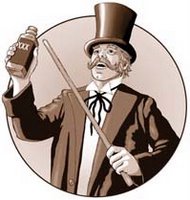 I've been spending a lot of time thinking about how much energy and money has been wasted on "fruify" web development and clueless SEO efforts. Thousands of companies have spent endless dollars on tag-tweaking "search experts" and pixel-tweaking flash animators without a Key Performance Indicator in sight!
Countless thousands of amateur web designers have sold companies on snazzy visual portfolios that distract from business objectives rather than help them achieve it. A lack of business experience combined with an infatuation with the latest graphical gizmo has created reams of useless web pages offering almost zero value to the company they represent.
While these pages sparkle and spin on page 23 of Google, the business sees almost nothing by way of results. I see this dozens of times and it drives me nuts!
When presented with questions such as "What is the exit rate for this page?" or "which of these pages has the best performance"… blank stares dominate. If you (web designers) don't have business experience, make sure you tell the company you're working for that is the case. If you are a brochure designer, say so! You may be a very good one, but you should sell yourself accurately. If you do not really know how to tune a site for the search engines, then stay OUT of the business until you do! All you're doing is over-confusing people on an already confusing topic.
Now, please don't accuse me of dismissing great visual design or talented SEO. I'm a huge huge fan of those mastering either very difficult art. But part of the art is the business performance. The language of the action. Achieving the goals. The information about that action a business can use to improve. Understanding how the site interacts with the larger Internet.
If you've mastered those things, I bow… way down, in respect.