For businesses who have been "riding the wave" of 3rd party reviews on their highly-visible Google Place page, you'll want to pay attention to this, and act to shore up your listings.
I personally observed this morning a business go from 63 reviews (with 4/5 stars) to 5 reviews (with 2/5 stars)
If your business is like many I know, you've depended on your positive reviews from Yelp, Citysearch, Edmunds, DealerRater and other 3rd party review sources to shore up non-existent and/or bad reviews on Google Places.  But those days may be over due to recent changes.  It appears that Antitrust litigation related to Google's syndication/scraping of various business information sources has made Google pull back on displaying  3rd party rankings, which has made rankings on Google Place Pages far more important in the all-important Local Search Engine Results Pages, which show rankings next to listings and display more local results than any other website.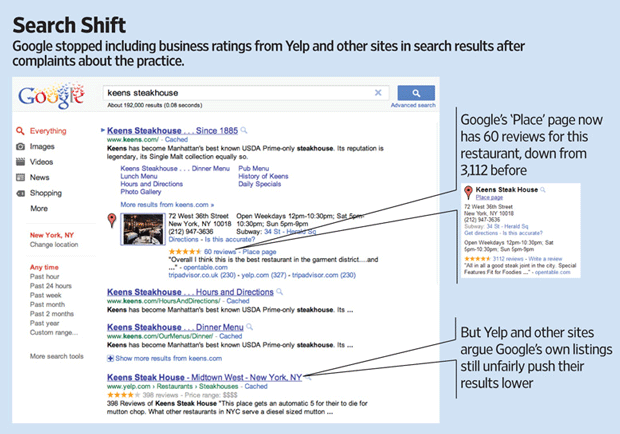 image: Wall Street Journal
Since last year, TripAdvisor, Yelp and Citysearch—sites with local-business reviews generated by their visitors—have complained Google effectively stole their content and posted it on Google's own pages. Google Places competes with those sites and provides information on millions of restaurants, hotels and other businesses, including store hours, location and photos.

Following Thursday's change, Google Places showed a marked decline in the number of reviews listed for some businesses. For example, Keens Steakhouse in New York displayed 60 reviews Friday, compared with more than 3,000 last month.

-Amir Efrati – Wall Street Journal
Google may still be using this review data in its local ranking algorithm, however, even if they are not displayed.
In terms of Places rank and location prominence, it may reflect an update to the algo or perhaps signal a change of emphasis…. although that is much harder to say and much harder to track if that is in fact the case. If I were to be a betting man I might say that it signals less importance on total quantity of reviews but more on review site diversity and quality. But that is just a guess and is really nothing different than I would have said last week.   – Mike Blumenthal
I recommend diversity in rankings, and given this change, you may want to focus on review solicitation from customers using techniques such as my review page/review card idea or a reviews microsite focusing on Place Page numbers for a little while.  As David Mihm said in his post digging more deeply into the details of these changes, "Your clients still need to be getting a ton of reviews, from as many sources as possible."