As some of you know I have worked with Franchises quite a bit in my SEO/SEM work in the past. These organizations offer something unique to the market. But it's not easy thanks of some nasty dynamics. While some franchise buyers realize they're actually buying a model and should retain consistency, many others think that they're only buying "guidelines" they should be able to color at will.
I'm proposing a system for improving the quality, fairness, and understanding during due diligence as it relates to business model franchises. Essentially, a way for buyers to know who they're dealing with as they do research.
Let's take a real-world scenario involving two franchisees who are about to become the target of a due-diligence routine:
Franchisee 1 follows the business model. The operations manuals are well worn and they give the franchise model benefit of the doubt, especially in the early days of their location. But most of the time they pull through it ("the dip") and if the model is a good one, begin to succeed as designed. They think of the franchise model as "rules" to be followed to the letter.
Franchisee 2 uses their own ideas. They try to run it the way they'd run a business started from scratch. They aimlessly try different things and frustration builds. Their operations manual is covered with dust. They start to lose money, and 90% of the time they blame the franchise. They think of the franchise model only as "guidelines."
Potential Franchisee 3 comes along, and wants to do due diligence by way of calling or visiting other locations. They begin calling franchise locations. By Murphy's Law, they call Franchisee 2, and get an earful of how "bad" the franchise is. This can undermine thousands of dollars in marketing effort, many hours of salesperson time, and is how many franchises bleed to death. But also it may put a stop to what would have become a very profitable venture for #3.
I have a simple idea to level the playing field and would love feedback.
Imagine you develop a Franchisee Compliance Index. This would come in the form of a checklist / audit that is exactly the same from franchisee to franchisee. It would cover an agreed-upon set of success factors within the scope of the franchise model. If you adhere to the franchise model well, you'll score higher on the checklist, start doing your own thing and your score goes down. This number would then be published in house (intranet), so everyone knows their score. (Of course, you'd provide rehabilitation support to try to get the franchisee to score better next round.)
The FCI becomes a way for potential franchisees to judge compliance to the model. Since the franchise staff are very limited in what they can say about individual locations, this gives them a way to "refer to compliance" via an objective, consistent means.
And now the beauty of the FCI. When a potential franchisee is progressing through the sales process, franchise staff can educate them about the compliance index and its purpose. They can say it's a method they use to score post-sale willingness to work within the franchise system (a critical success factor.)
The sales staff can recommend to the potential franchisee to ask other locations their FCI score as they continue due-diligence.  The sales staff can now relax knowing that the index will help level the playing field.
The result of that question will be "telling"
They will answer proudly. "High 90's" – and here the company operations will likely be benefiting from the franchise model. These are your profitable ventures.
They will say they don't know. The potential franchisee will then ask them to get it from the intranet.
They will argue with the FCI's premise. "It's unfair." (anyone familiar with franchises will know this is bogus.)
They will say they have a low FCI. This lets the potential buyer factor in noncompliance with any business problems.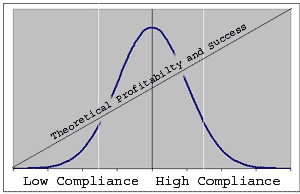 Potential Franchisees will be able to sense the inevitable correlation ON THEIR OWN between the high FCI and the profitability. This effectively blocks smear tactics by non-compliant, failing franchisees.
Postscript: I've received a few comments saying "If a franchise was run correctly, this wouldn't be an issue."  Well, yes and no.  First of all as a franchise grows in number, it becomes nearly impossible to have complete compliance.  Most of the time you would get a bell curve (right.)  Franchises are not run in the sterile environment of the prototype, rather they are in the real world.  It's human nature to want to try new things, especially among entrepreneurial people.  When a painfully unprofitable month has just prevented someone from buying a nice birthday present for their spouse, it becomes easy to slip away from the franchise model, calling if flawed.
If compliance were strictly enforced in the franchise agreement, this problem would theoretically vanish.  This still requires audits and reviews of each location, along with "real teeth."  The non-compliance remedy will likely cause antagonism in the system, and possibly lead franchisees to give bad references and embark on another smear campaign.