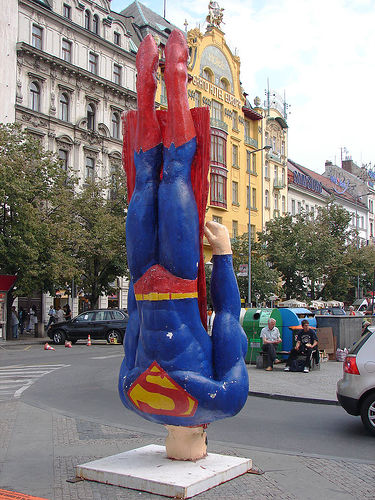 I have six professional heroes presently – and I don't mind sharing. In random order, they are:
I've met Florida, Tufte, Jobs and Wozniak. If only for a moment (they wouldn't remember me.) I had no trouble making the list above. It came to me in 3 minutes. Each have contributed through a career of hard work with a real passion to improve things.
Have any heroes emerged in the SEO world? Should we expect it? As I sat in a meeting recently all eyes were on me to save the business. My answers about content creation, social media, and slow, steady growth were not superhero answers. Some are looking for the cape crusader to save old-school companies with new marketing feats of awe. People start looking for a mild-mannered SEO to burst from the phone booth and fix the problem. I don't know why.
Good SEOs focus on high-value content while they pave the way for great stuff to get in the hands of smart people who want it (when they want it.) They should not be expected (right now!) to make crappy stuff desirable.
Studies are showing that more ad dollars will be spent on SEO despite the economic slow-down. I'm afraid, as described here, we'll see more bad SEO from those who flock to the business.
We in the SEO/SEM profession strive to affect outcomes of consumer search behavior. Some of us do it very scientifically. The web is a path of low resistance between seller and buyers and offers higher ROI than other tactics. Still, it's not a spectator sport for clients. Without high quality products or services, users just leave, and all SEO work was for nothing.
"My position is that the (SEO) clients are the problem, not the consultants. That's because they (clients) want shortcuts, not hard work. The best SEO is great content. Don't do that and you don't get much. – Seth Godin in a recent interview.
To me, the quality of the content mirrors the quality of the offering. Is the quality of your offering WORTHY of an embrace by the web community? Are the reasons for that embrace easy to spread? Is the writing good? Does the message meet the searcher where they are? Are you listening to the recommendations you're paying for?
The good news is that the web has more muscle than ever for you to tap into. The bad news (for some) is it's radically different (and more difficult) than businesses (especially old-school) think it is. The rejection (or mastery) of the conversational marketing model is going to affect the future more than most realize. Whether or not they want to hear it, authentic voices get heard. Companies must become a trusted authority. Behavioral models show great promise, but take a lot of work. Participatory media can change entire organizations, but requires a paradigm shift.
"Social media is often in the jurisdiction of the PR agency or in-house department, separate from SEM. This partitioning is sometimes a tough barrier to crack. Convincing the VP of marketing that online PR and reputation management has become a key component to being properly indexed in Google can be a difficult sell. That's not how most companies are tooled. The thin yellow line is fear of rapid change. Marty Weintraub (definite hero potential.)
Now I'm rambling so I'll wrap it up.
The web is therefore becoming a filter of mediocrity. A company cannot tell two stories and get away with it – for long. If your product sucks, everyone knows it or will. If your service stinks, no snazzed up website is going to save you long-term and there is no SEO superhero going to swoop in and change it.
Photo by Karel Hladky