It feels right to once again remind my site visitors and valued clients of what's happening with the Google search results (at an ever increasing pace.)   I'm seeing social media engagement being used more often to vet sites for their appropriateness at the top of search engines.  Brands that are not bothering with social signals are thinning out.  Sure, they still rank for their brand name, but the mid-to-long tail keywords are not working as well.   The basics are still critical.  On-page approaches, link building, diversity of citations and so on still matter.  But now it's more.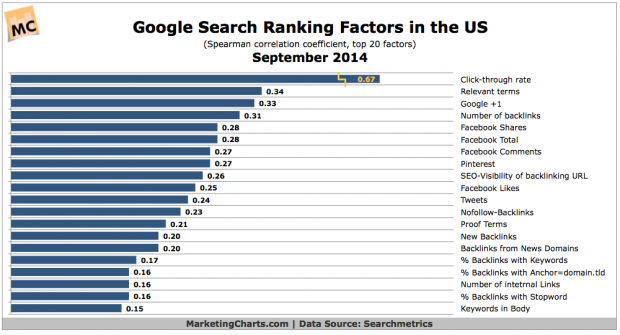 (click to enlarge)
I am always trying to focus my clients' attention towards this future.  This harder, more demanding future.  Many surely wish they could go back to the old days of SEO where you could lock a search pro in a room and in a few week's she/he would proudly emerge proclaiming improved rank. The effort to stay on top of competition will be unambiguously related to a company's ability to embrace internal content production talent – their experts – and empower them to represent both the company and their own expertise online.    Corporate voice is becoming muted in favor of authorship-enhanced individuals' authority (yes, authorship is still a thing in rank.)   But it's happening too slowly to show up on many CMO's radar, making it a hard sell with limited resources.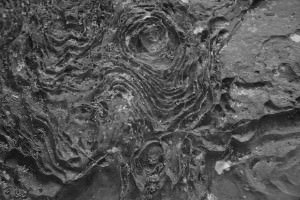 I used to think it would be easy to explain this.   Google wants to rank what's interesting, and that is determined by users' behavior.  How much they share, like and comment on a piece of content is a very reliable method for determining its engagement potential.  And highly engaging content at the top of search results makes users happy (with Google) so they keep coming back.  They enjoy reading it, it speaks to them, it addresses their pain points, they feel good when they share it.  So Google tunes into the sharing activity.  And so on.
Social amplification can help – as these paid methods can quickly convert into engagement signals. This blend of organic and paid boosting into the social networks can be confusing to describe and a nightmare for attribution.  It requires a broad meta-view of the channel as it is today, not 2 years ago.  It requires a strange blend of longer term strategic thinking that is still tied to near-real-time analytics.
The gradual change happening makes some of this a tough sell.  It's not that clients aren't listening but we don't have a dramatic "OMG we fell off the first two pages" type of event – we have to plot change over months.  An emergency meeting isn't called, and things get put off.   I think that after you've looked at a hundred search results, you get an intuitive sense for this change and this is what I try to communicate.  Am I sure?   Nope – nobody other than Google's algorithm team can know – and with thousands of changes a year through machine learning even they have trouble.    Another confounding  factor is causation vs correlation when you're trying to attribute change to your efforts.  Are higher ranked pages shared more often?  Or does sharing these pages result in higher rank?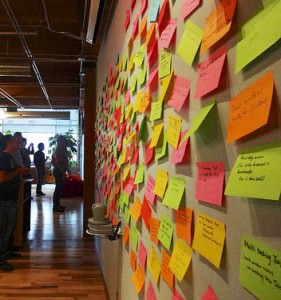 You can see how some brands are succeeding.  I think they're doing a lot of listening about user intent, and dovetailing a lot of content to that intent, boosted by social amplification.  This is forming a positive feedback loop from which one output is ever-stronger social signals.   Will that be enough to lift them to the top?  Signs are positive.
Google follows the oohs and ahhs.  They're looking at what social networks are looking at.   And social networks are picky.
post-it photo by Jennifer Morrow via (cc) license
[revised 6/6/15 from an article created 9/6/2013]