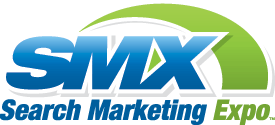 Okay just a short wrap up post here. SMX advanced was terrific. I found the organic presentations to be far more "satisfying" intellectually than the paid track, so by the last bit of the conference I was planted there.
SMX Local / Mobile later this year is definitely on my radar. I think a group picture of the SMX folks will be up soon… I'll post it here. I even saw Matt with his Ale-8-One T-Shirt at the show, commenting it was probably the only one like it anywhere near Seattle.

The Edgewater Hotel was really fancy – perhaps too fancy? I would have traded the marble and chrome for a good vending machine. I can't complain, though. It was right next to the conference center.
I'm walking away with a notebook full of tips, a bunch of new friends, and a great first experience.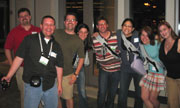 Photos: (left photo taken by Jim) Me, Bruce Clay, and Christine Churchill. (right) Me, ?someone?, Matt Cutts, Lisa Barone, Danny Sullivan, Susan Esparza, Vanessa Fox, Jennifer Slegg)
Photo by ? – whoever you are, thank you.