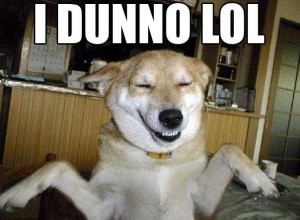 From the "Millions of dollars down the toilet" department:  I Came across some statistics today related to ecommerce and shopping habits, specifically related to user experience in ecommerce search situations.
16% of ecommerce websites do not support searching by product name or model number , despite those details appearing on the product page.
An additional 18% of websites provide no useful results when the user types just a single character wrong in the product's name.
70% of ecommerce sites require users to search by the exact verbiage the website uses , failing to return relevant products for, say, "blow dryer" if "hair dryer" is typed, or "multifunction printer" if "all-in-one printer" is typed.
Searches with symbols and abbreviations are not supported by 60% of ecommerce websites . For example, the websites do not map the double quotation mark (often substituted for the double prime symbol: ″) or "in" to "inch."
Autocomplete suggestions are found on 82% of ecommerce websites . While some implementations greatly enhance the search experience, 36% of implementations do more harm than good.
Only 34% of ecommerce sites allow users to easily iterate on their query by pre-filling it in the search field on the results page, despite the fact that, according to tests, users frequently need to iterate on their query — on average, 65% of test subjects required two or more query attempts during testing.
Yikes!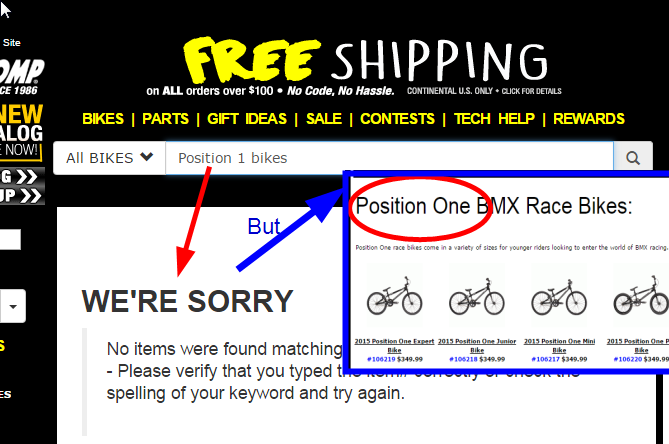 On the one shown (sorry guys, you came up) I looked for "Position One" bikes… but I typed "Position 1" instead.  "No items found" was the result.  Ouch…
I'm sure this is also true on non-transactional sites (I tried 3-4 on med-sized company sites) and they failed pretty miserably to give me good results with even the slightest typos or missing info.
Take Away:  Make sure your analytics are capturing site search phrases and that you're looking at what people are typing in. Then, compare that to their exits from your site.  Real money there, folks.