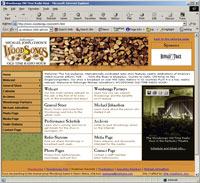 Over 1,000,000 listeners.  Over 400 radio stations.  Over 30 countries.
The Woodsongs Old-Time Radio Hour is a cross between Prairie Home Companion and Conan O'Brien.  This live-audience, internationally syndicated radio show features weekly celebrations of America's oldest musical art form, Folk . . . From the Blues to Bluegrass, Country to Celtic, Old-timey to New Singer/songwriters.
Site Creations provided the entire design, consultation, streaming video assistance, and other critical technical help to keep this site going as it supports this ever growing phenomenon.
Rotating banners, cascading menus, streaming video, streaming audio, graphics design, SSI, and the list goes on of the technology used on this site.
New additions include Podcasting, RSS feeds of schedules, and a new Flickr photo gallery (coming) to share faces of Woodsongs fans around the world.