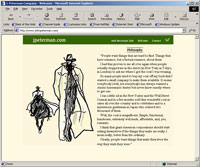 The entrepreneurial sprit. Resilience. Quality. Innovation. How do you chart the course through the choppy waters of retail business? You build a dynamic team who can make changes quickly, adjust, and provide the flexibility that famous entrepreneur John Peterman demands.   A ultra performance, always-up technology base provides the vehicle for the adventure.
Ecometry Multi-Channel CGI-based live data connection via dedicated connection to a high-performance web server ensures a reliable and accurate website that fully integrates the business model, inventory plans, and promotional patterns of the company.  Full integration with the warehousing, call center, and marketing operations gives customers what they expect.
The store has taken on a life of its own now, and development has been taken in-house.  But it was one of my favorite projects ever.