Whimsical Genius and rock solid website enable on-line sales.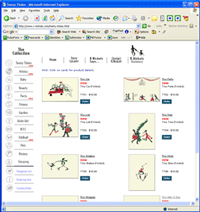 One look at the card designs from R-Nichols and you'll know – this guy's a genius.  Taking the simplest raw materials and assembling charming, humorous little environments that represent moments in the daily life of all of us.   It would be hard, as one browses this site, not to find at least one design that says "this is me."
Starting with a standard website, I web enabled it by taking it to the Yahoo shopping network as a custom Yahoo store, and assisted the client with all aspects of running it themselves.
Secure shopping, graphics design, image editing, custom Yahoo templates, RTML, and more.