Small Site – Serious Search Rank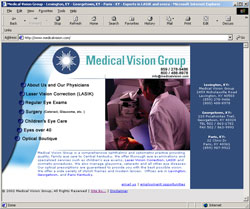 An example of how a small website doesn't have to appear amateurish.  This site offers basic information needed by the customers of this vision center in a clean, yet impressive format.  Using the language of the visitor, sections are clearly marked and copy simply written.
Working from provided logos and color schema – I developed this into a site that the company can be proud of.
The site has stood the test of time – developed in 2002, it clearly shows a bit of age – but has served the company well.
The site ranks #1 for key phrases in areas such as LASIK and eye surgery because it was designed with SEO in mind.