Millions of dollars flow through a simple, functional website.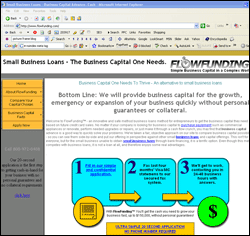 Keeping it simple is key when you're talking about financial services.
This site offers an innovative way for small business to find alternative working capital using their incoming credit card receivables – Business Cash Advance.
To succeed, it needed to show the process in fast terms, be easy to split-test, consistent, and be easy to change as we learned about the marketplace.
It's one of the most competitive businesses on the web – but the site is doing great and getting better every day thanks to strong white-hat techniques for SEO and Pay-Per-Click.
Some smart auto-responses, a tricked-out referral system, and integration with a blog-RSS system make the site low-maintenance for everyday operation.