With over 3000 rugs and growing, this site provides some innovative features that service customers rapidly and efficiently.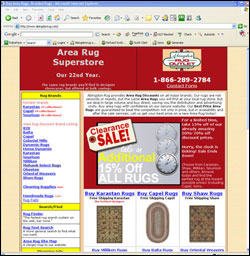 Top 5 ratings on all major search engines!
The Abingdon Rug Outlet site was designed for two things:  SPEED and MORE SPEED.  It was not meant to have the most elaborate query system, rather to be fast enough that customers can browse naturally … visually.  It provides customers with after-hours quotes on hot items, as well as live customer service with a human real-time.  It provides the merchant with a whole host of tools to manage the site.
Several innovative technologies were put on the site, including a rapid-rug finder, an email-quote system, live chat, and more!
Technologies used:  High performance hosting, Desktop Inventory Manager, Site Update manager, image processing system, secure shopping cart, email quote manager, and live help clients.
Services we provided:  Programming, Design, Image Management, Search Engine Positioning, PPV campaign Management, Remote Assistance, Web metrics.
Note: As we have emphasized search marketing over raw web programming, one of our web programming partners is now managing continued evolution of this website for Abingdon Rug.