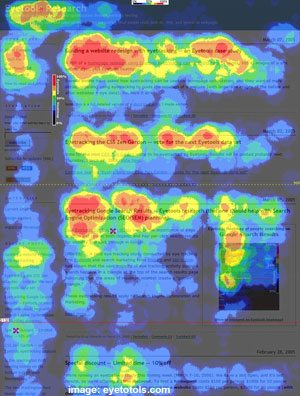 While in the Silicon Valley, I worked for a couple of years on cockpit display software in ultra-high performance aircraft with McDonnell Douglas. These used expensive gray helmets connected to expensive grey computers to determine the direction of the pilot's gaze and then follow that glance with everything from a little laser beam to a gun the size of a telephone pole.  With this gear in place, "staring someone down" took on an entirely new meaning.As the years have passed, eye-tracking technology has made it into many, less dangerous areas of everyday life. It has enabled thousands of severely disabled persons to control computers, for example. I even own a 1996 Canon camcorder that focuses, sometimes, where you look in the viewfinder, and I recently watched a Mercedes Benz video of a system that noticed when you were drifting off to sleep by eerily scanning your eyeballs while you drive.
The Eyes Have It
But it took a clever consumer testing engineer to think of using this technology to measure Web site viewing activity. Where and how long a visitor stares can be a good indication of their intent, providing data on how well your site is working for individual surfers.
The technology in question is known as "eye tracking" or ETS, which generally works like this: While viewing a Web site, small cameras on a headset or special computer monitor convert eye movements into data. Using special optics it bounces harmless and invisible infrared lights off the back of the retina into a receiving sensor, and it measures the angular difference to plot the points in 2 dimensions. Trust me, it works.
To use this information in a real test, subjects are asked to view a site and accomplish a task. The positional data is then played back overlaid with the original site so that individual and aggregate eye motions are formed into "heat maps" – they sort of look like clouds of color on top of the screen. Depending on the color, you can tell where most people looked, for how long, and so on.
Disparities between visitors' natural scanning movements and a company's expectations are evaluated. If a person doesn't look at a product, you can't sell it to them. A dark area over an important spot may explain poor sales for that item. because people simply never looked at it. If they look at the product but never inquire, you might be overpriced or simply have the wrong product offer. If they all stop reading descriptive text after a certain number of words, you might need to focus the writing, and so on. With this information you can focus your time on the real problems and get to the solutions more quickly.
Video by etre.com during testing on Squidoo.com
For managing Web design projects, ETS provides a type of web content evaluation with hard actionable information to lean on. With heatmaps projected on the wall, you can avoid "committeeitis" because little is left to question. Everyone involved is forced to move in the same direction: toward the customer.
While many companies keep ETS results secret, some insights have been published. Some examples include:
Visitors tend to scan text-heavy pages in an "F" shaped pattern, passing quickly across the top, down the left, across subheadings, and then scanning down the left again.   (Source)
Visitors often read the first half of a headline before moving on to view further headlines' first halves.
Visitors make a decision whether they think a site is of "high quality" in 50 milliseconds, and they carry with them the "emotional baggage" of this assessment for the remainder of the visit.  (Source)
Strategically placed photographs and images can help users scan a page by helping visitors focus on content.
Visitors are more likely to read an e-mail newsletter if a high-quality photograph exists in the introduction.
People may dismiss entire navigation menus if the first three choices on the list aren't what they want.
Faces attract and hold attention from visitors longer than any other graphical element.
Intelligent color coding can dramatically help visitors scan Web pages for content.
As usual, the owners of Web sites ask whether all of this is worth the effort. But improvements resulting from ETS can reap, according to some estimates, as much as a 30-40 percent improvement in sales. The lessons learned guide future plans, making it a good long-term investment.
The beauty in this research is how it helps us serve customers. It allows us to discard ego-driven assumptions in favor of demonstrated truisms. This is where Web design reaches its purest form. After all, actions always speak louder than words, even when measured in micrometers and milliseconds.
May 2006