Organic Search Engine Optimization:   Case Study : Specialty Apparel Retailer
Postscript – SAS was sold to Massage Warehouse. Congrats to them!
Client:  Stress Away Systems (Massage Warehouse)
Market: Retail Apparel
Goal : #1 ratings for critical search terms
Plan: Design the site for easy crawling, Excellent use of tags and careful search engine submission monitoring.  Resist the urges to move to a dynamically generated catalog.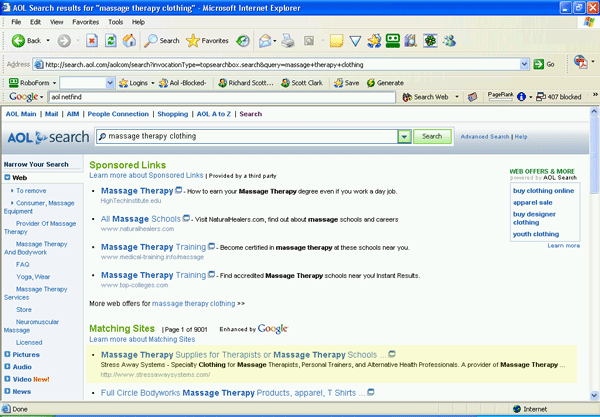 (shaded yellow area is first organic listing)
Result: Total dominance of target market.
Not only was I able to dominate the target search term for this store's main target, but for generic searches that tended to cross-sell into it.
The rating wasn't great on just one engine, but across the board.  A broad presence allowed us to use the sponsored link multiplier effect on a whim – buying space on the sponsored links (not shown above) to have double presentation (which, as I discuss here, can more than triple traffic.)
| | | |
| --- | --- | --- |
| Search Query | Ranking | Search Engine |
| Massage Therapy Clothing | 1 | AOL |
| Massage Therapy Clothes | 1 | AOL |
| Massage Therapy Clothing | 1 | Google |
| Massage Therapy Clothes | 1 | Google |
| Massage Therapy Jacket | 1 | Google |
| Personal Trainer Supplies | 1 | Google |
| Massage Therapy Clothes | 1 | Excite |
| Massage Therapy Supplies | 1 | Jayde |
| Massage Therapy Shirt | 1 | Yahoo! |
| Massage Therapy Jacket | 1 | Yahoo! |
| Massage Therapy Clothes | 1 | Yahoo! |
| Personal Trainer Supplies | 1 | Lycos |
| Massage Therapy Uniforms | 1 | (nearly all engines) |
| Massage Therapy Supplies | 2 | AOL |
| Massage Therapy Supplies | 2 | Google |
| Massage Therapy Shirt | 2 | Excite |
| Massage Therapy Clothes | 2 | Excite |
| Massage Therapy Uniforms | 2 | Excite |
| Massage Therapy Shirt | 2 | Alltheweb |
| Massage Therapy Clothing | 2 | Alltheweb |
* This case study is getting some age on it, but is one of my favorites