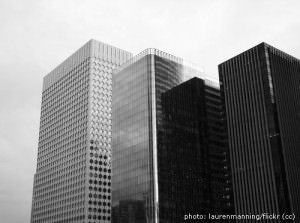 Local SEO is the process of connecting your business to the community of searchers nearby in a cost-effective manner.  This is done by establishing locale, targeting and relevance of your site/offer to the community in the eyes of the search engines or platforms.  Audience definition, targeting and sales funnels are all constructed to convert a maximum amount of local traffic into local revenue.
Local Organic SEO
Classic SEO concepts hold up here, but with a local twist.  Instead of simply building content, you need to build locally relevant content.  And instead of just building links, you need local citations.  These local ranking signals are just as complex as other SEO signals while also being geographically dependent.   The personalization of search results per-searcher means that search engines will be looking at a searcher's location and wrapping them with relevant results.
Local rank are driven by :
Place page signals, including local social activity.
Local citations and links from other local sites.
Local business listings (LBL) consistency and accuracy
Reviews and rankings signals
Searcher behavioral patterns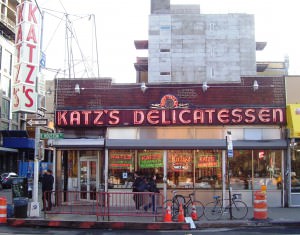 Some of the most important local SEO signals are driven by LBLs. These categorized listings in a community collectively inform search engines of your site's "geographic base."   Consistency and accuracy of these listings is essential in ranking your site in a given area.  Other signals come from Place pages – such as those created for your business in Google+ Local, Bing Local and Google Places.  This is a confusing landscape that is slowly being tamed.  Reviews and ratings are also influencers of rank, often thanks to changes in click-through rate for well-rated businesses.  It pays for a business to obtain honest, happy customer reviews for their business.  These ratings and reviews display in more places than ever.
Geotargeted Pay Per Click
With geotargeted pay per click or display advertising, you can define the geographic area where you'd like to advertise, as well as customize your sales funnel by geography.   Campaigns can be divided to tweak budgets, bids for position, ad texts and landing pages to carefully match the local traffic with the best local sales process.
The Pay Per Click version of this is best shown by an example: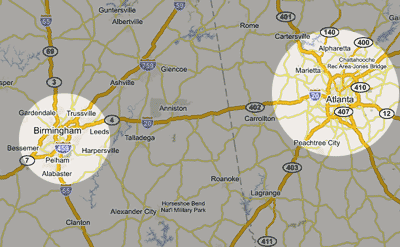 If you had businesses in Atlanta and Birmingham, you could send traffic to a specific landing page for that city, and distribute sales leads to the regional salesperson.
Geotargeted Social Sponsored / Psychographic Targeting
Social networks offer psychographic targeting of customers within a locale.  This means that you can target demographics or target by interest within your local area.  This traffic can be shown ads or content that encourage them to click into your sales process.  Social networks operate quite differently than pay-per-click search networks, and special care is needed in audience definition.  Targeting can be improved over time.
Who can benefit from local search solutions?  A few examples:
Service firms in a specific region.
Industrial suppliers looking for specific customers
Large-item retail, such as durable goods.
Wholesale firms wanting to market in certain regions.
Franchises with rules about where they can advertise.
Co-op advertisers in geographically-restrictive agreements.
Attorneys licensed only in a single state.
What are some advantages of local search marketing?
Improved conversion and reduced waste
Keying off brand names during consumer research
Exploring new markets
Providing localized messages in ads/pages.
So what can I do to help?
Set up and configure the tools you need.
Help you with some of the more obscure concepts.
Provide advice that is based on experiences I've had or heard about.
Measure and manage your effort with an objective eye.