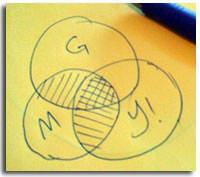 Why should I pay a consultant to assist with this?
You should spend your time running your business.  Paid Search takes many years to master.  It's possible to achieve "direct mail" levels of response without much experience, but if you want to get into the real ROI, you will need to take a lot of time.  I can accelerate your program and provide you with a concise education so that you can understand what works quickly – without the pain.
Which is better, Google Adwords or Bing?
Simply put, you want to use them all.  Inventory availability is too low to stop on just Adwords.  If you do, you're leaving money on the table. Think of the Internet as a Venn Diagram like the one to the right.  Google's not the only game in town.   You should test Adwords, Facebook Ads, Bing Adcenter and others and save this collection as your magic formula.