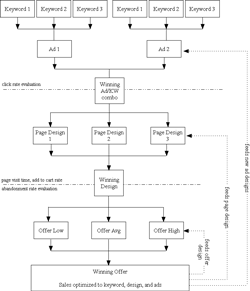 In addition to showing on the SERPs, advertisers can choose to advertise on Google's advertising network.  This is a gigantic collection of privately-owned websites that show "Ads by Google" on them.  These websites earn a small percentage of each click in exchange for allowing ads on their websites. The ads which are displayed on those sites are called Google's "Content" network.  Advertisers can allow Google to find a best fit for their ads or they can choose the sites where they want to appear.  Google will attempt to match ads to the content of the website they are placed upon using a proprietary algorithm.
On Google's SERPs, advertisers can choose:
geographic targeting (city, state, map location) [ local search marketing ]
language targeting
ads not to show
keyword phrases to show with
keyword phrases not to show with
other options
On Google's Content Network, advertisers can choose:
language targeting
sites not to appear on
sites to appear on (site selection)
I offer:
Full service setup and optimization
Experience with hundreds of Adwords setups
Proven performance in improving conversions.
Analytics from campaign to keyword granularity.
Go or Stop advice.
More Information about Google Adwords: