On a clear blue Bahamas afternoon, we lifted off from the Congo City Airport bound for Nassau on a quick little plane with a group of extremely friendly people. Many had come to the San Andros Island homecoming festival held in Congo Town, others were just hopping islands. The Nassau Airport required three screenings of our carry on luggage – and the metal detectors are turned up to full sensitivity – reassuring, but slightly inconvenient. BahamasAir and WesternAir were easy airlines to fly on and I felt safe on both. Make sure you review your flight times carefully as they seem to have a way of adjusting slightly, and our email notifications set up for the rest of the trip by Orbitz don't work for these airlines. Nothing major at all, we sailed through without a hitch – just take a look before settling in to wait for your plane or exploring the airport. The Nassau airport is bright and airy… a nice place to spend a few minutes. The NAS airport does not have free WiFi, which would have been nice. Their WIFI was on, but port 80 was blocked. Other ports were open, oddly, and I could IM, Skype or do RDS without a problem. I saw at least three others walking around with laptops looking for somewhere to connect. Don't forget to turn on your firewall to "full, no exceptions" when using airport wifis… and only use the official airport wifi hubs. Every airport I go through seems to have "free public wifi" available as a peer to peer network, yet I know these are probably network sniffers of some sort or another on someone's laptop.
I do wish we could have stayed longer in South Andros Island. I'm not just talking about the "hospitality" crowd, but everyone we saw were genuinely friendly.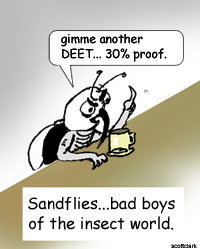 If you're heading to San Andros for vacation, here's a few tips:
Bring a grocery list for your family and ask the driver to stop you by one of the small shops on the way from the airport. The taxi services are expensive and this will save you money and time. Of course this assumes that your accommodations have refrigeration and cooking capabilities. To go to the store later will cost you $20-30 round trip for a cab! The mail boat carries supplies to the island and arrives Tuesdays, so the store's inventory will diminish as Tuesday comes around, particularly on fresh milk, etc.
If you want to have beer or wine in your room, ask the taxi driver to swing by the liquor store just south of the Airport in Congo Town. The wine and beer are less than half the cost of what you'll find at your hotel or at resorts like Emerald Palms. The store is run by the wife of the Police Commissioner, and it is well stocked and the staff is friendly.
There is a small fresh fruit stand nearby called "Jeff's Fruit Stand" that has freshly picked selection. The stop is easy and on the way on the east side of the road, stop and get some things there to, as the grocery stores do not have fresh fruits. The hours of operation are not entirely clear, but most things close on the island at 5:00pm, including the airport.
Take about three times the bug spray you think you need. Don't take the fruify "cosmetic" kind either – take the deep-woods-smells-like-crap kind that hunters use or SkinSoSoft from Avon (strongest they have.) The female no-see-ums (sand flies) and mosquitoes are incredibly aggressive. The come in waves – one day they won't be there at all, and other days they are unbearable. Some tips for Sandfly management: When possible, cover your arms and legs with long sleeve garments, Take your vitamin B; Sandflies don't like vitamin B and Avoid wearing dark colors, apparently sandflies are attracted to dark colors.
Sunscreen, of course, in abundance.
Benadryl (or generic equivalent) in case you have any kind of allergic reactions…. or if the sandflies get you.
Drink lots of fluids if you're out and about, carry water with you if you're going beach walking. There are few places to buy things here.
San Andros is an isolated place. Prepare yourself before venturing out.
Bring your cell phone, and buy a BaTelCo SIMM if you plan to use it much. If you plan on making more than 60-90m of calls during your trip, buy a SIMM card for BaTelCo to save the roaming rates. Cell coverage is excellent (at least on the East side of the island,) so having a cell phone with you is a good idea. These pre-paid SIMMs can be bought on island pretty cheap, so you may want to wait until you're in Nassau for the best deal….but make sure you have enough layover to go buy them (Nassau operates efficiently and with great friendliness, but you are now officially on island pace.) Write down the phone numbers of some taxi services and the hotel you're staying at in case you need a ride.
Try the Goombay Punch, a local soda. It's incredibly good. Buy a six pack, you'll wish they had it in the states.
Beach shoes. Unless your feet are really, really tough, wading on the volcanic rock and shelling can be hard on the feet. A pair of beach shoes can make your days of tide pool exploration much more fun.
The water on this side of the island is pretty chilly but the winds blowing over it make for a wonderful breeze on warm days however. Don't expect Waikiki bay warmth in the water.
You will need to bring CASH. Don't expect your credit cards to work here except in the resorts. I felt very very safe carrying cash on this island… much safer than carrying it in the States. Bahamian and US Dollars can be used interchangeably and are all accepted everywhere. I didn't try traveler's checks, but don't think they would be well regarded. Western Air requires cash payment at time of the flight for your island hop, but you can buy round trip tickets. There are no apparent ATMs on the island, and no place to wire money that I know of.
Back to work!!!!
personalpost