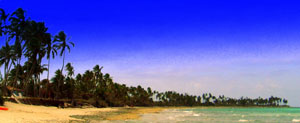 One of our bags had been diverted to North Andros Island (might as well be Hawaii) which threatened to limit our wardrobe to two changes. But our hosts made calls to friends, favors were returned and arrangements made to send the bag with the ex Bahamian Prime minister in his private plane. Nice. I met one of his entourage who was excellent company for the short run to the airport airstrip to pick up the bag. I engaged him on the ride about their election (May 2nd) and campaign (the purpose, it seems for Mr. Prime Minister's visit.) He told me of struggles against government corruption, for improved education and opportunities for people throughout the commonwealth especially for those on the outer islands. The Bahamas is a Constitutional parliamentary democracy, and elections will put officials in office for five years. There is great hope for improvements. The Free National Movement was the most active while we were there.
This party seemed very popular…for as we made our way down the roadway, locals sitting on porches and pickup beds made special efforts to holler out with warm waves. I've noticed in South Andros at least, the "double toot" of the car horn seems a universal gesture of greeting.
We arrived to find the closed, but a knock on a side door drew out a drowsy customs official opened the door (I think we interrupted checkers and beer.) He quickly "screened" my bag, so with a wave we were off. Ah… fresh clothes. At dinner, the staff at the restaurant were clearly excited about the arrival of such famous politicians. We planned our meal early so to hopefully avoid the madness given our distinctly non-celebrity status. The kids had great fun capturing geckos and crabs, engaging in great civil engineering projects on doomed sandcastles that didn't last the night. Freckles are emerging, hair is bleaching and we're all adjusting to this pace quite well.
personalpost