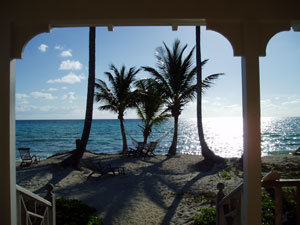 From Nassau we flew in a tiny plane towards Congo City – a place that, from the Satellite map looks like a blurry line (airstrip) in the center of a forest of mangroves and palms. Watching out the front of the plane as we approached this tiny brownish runway was among the most intense of air travel experiences I've ever had.
Once down, we met Ms. Lloyd – and her warm smile and reliable diesel taxi snagged us up and took us to a local market for some groceries. We met our first locals who offered more of the smiles that seem to be easy currency on this place. We arrived a day before the supply boat, so the store's inventory was limited, but we managed to grab some basics. I think we'll make our way over there today for some milk and so on.
So now, oceanside, I'm watching rays meander by in the aquamarine water and hanging on a hammock beneath palms. A few hundred paces from the cabin one can easily pretend you are stranded, Castaway-style as all signs of civilization vanish. Everyone asks me if we're going to "Atlantis"…. no, this is quite the opposite. The moon is full which rises just after sunset tonight. Good luck? Let us hope.
personalpost