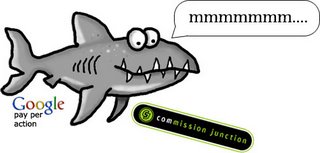 Pay per Action is being tested on the Google Adsense network. "We are currently testing a cost-per-action pricing model to give advertisers more flexibility and provide publishers another way to earn revenue through AdSense," Google said. "We're pleased with how the test is progressing and will continue to gather feedback from advertisers and publishers."
We've had Valueclick and others out there doing CPA, but they were difficult to the average blogger or website owner. For the same reason that advertising networks exploded with the introduction of Google Adsense and the Yahoo Publisher Network, this system will bring PPA marketing to the mainstream for advertisers and publishers.
With Pay Per Action, marketers only pay for the ad when a lead or purchase is finished, not when a visit to the site is tallied. This removes the issues of click fraud and removes much risk from the marketer as they try to determine converesion metrics.
It changes everything in terms of landing page design, ad writing, and calls to action. I'm anxious to see what works best during split testing of this method.