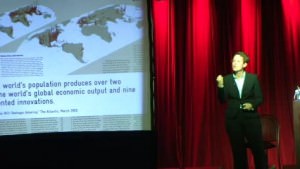 Rebecca Ryan is in town today, and I thought it might be useful to produce a resources page to help attendees at the Luncheon obtain some background and contextual information about the Creative Class and perhaps get some insights about how it applies to the future of Lexington.
From an economic development standpoint, Next Cities™ have the potential to attract high-paying, new economy jobs. These cities have the assets and amenities that the next generation of knowledge workers value. If these assets are properly marketed, Next Cities™ will attract and retain educated young people who, in turn, will bring employers in search of talented workers to these cities.

-Marty Honisch, Research Analyst; Margaret Leaf, Research Analyst, Rebecca Ryan, Founder/2EO, Next Generation Consulting (Aug/Sep 09)
This list is not reviewed by nor endorsed by the Chamber of Commerce – it is my own.
Articles / Posts Relating to Lexington and the Creative Class
Downtown Lexington Scene
Discussions of the meeting
What Did I miss?  Add your own resources in the comments section and I'll add them to the list.