While I built my first few portals in the late 1990s (Lotus Domino!) , I've found myself doing a fair amount of work on news portals – and love it. It's a purists playground with priorities to remove friction from the enterprise before anything. There's a real rush in building a system that takes advantage of new technologies (RSS/XML/etc.) and saves very real time for the company needing it.
It's my observation that what works on corporate portals work well on public news portals too, as long as you consider the less savvy user, requirements for branding and monetization. I've not been a big news portal user… I typically get my news via RSS… but during these projects I've been sharpening my pencil through review of dozens of portals and re-reading a few of my favorite Information Design books.
News portals make a unique set of design mistakes – as well as a bunch of the usual. In the comparison image below, I put two newspaper pages up against each other to show some contrasts that demonstrate typical issues.
The top design demonstrates what appears to be the "fill available space"logic …Your eye must dart about through a maze of different fonts, headline designs, and inconsistent graphics. Some may say, "hey, it's a medium sized market TV station website, we can't afford a fancy design." But hang on a second. The problem here is the focus of time and energy was misplaced. Nobody cares about the fancy graphical drop down menus or the home page animation. Every study I've read shows users want simplicity on their news sites. If the news site is a low priority project for the organization, then they should strive for simplicity and put all of their available funds into finding a top designer with experience and no need to show off.
The lower design, from the Houston chronicle, shows a news portal page done right. Nobody felt the need to put whiz-bang garbage on the home page. Despite the variety of news feed sources, there is a strong consistency in layout – the headlines are color coded, and the eyepaths are simplified. A clear design guideline is in place for headline length, keeping wrapping to a minimum. It's a pleasure to read that page. It's skimmable and I know exactly where my favorite area will be the next time I come to the page. Ads are in the eye path, and will be remembered far more than the noise of the top design.
The effort required to build the page on the bottom, from a style sheet and programming standpoint, wasn't much harder than the top layout – but it required planning and agreement to adhere to a design standard site-wide. To put it simply… the Houston site design was created by someone who didn't care one bit about impressing visitors with their web snaz… they just wanted to do a great job making it do what it should. My Hat is off. Beautifully done, congratulations to those in charge.
If your role is to build such a portal or newspaper site, spend 2 hours on Google and look at the differences between news sites on the web – there are tremendous a-ha moments to be had.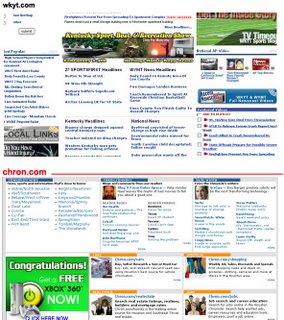 See also This post about news site design I just found.