Microsoft has put together a set of keywords by Industry.
Currently listed are Retail, Technology, and Financial Services groupings.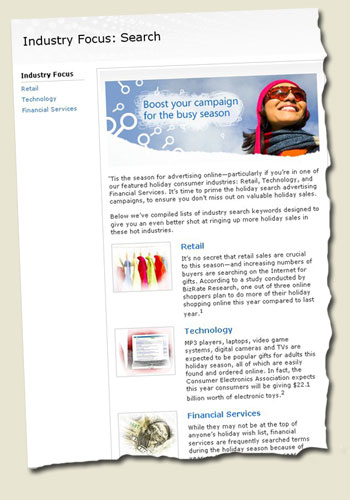 For example, you can download pre-fab lists of financial services terms around "Banks, Loans and Refinancing". Retail can look into Apparel, Toys, Transformers, Video Games, and Mobile Phones.
….Tis the season for advertising online—particularly if you're in one of our featured holiday consumer industries: Retail, Technology, and Financial Services. It's time to prime the holiday search advertising campaigns, to ensure you don't miss out on valuable holiday sales. Below we've compiled lists of industry search keywords designed to give you an even better shot at ringing up more holiday sales in these hot industries….
These may be good for the newbies to learn more about what a keyword list looks like. The lists are in a near-ready-to-import Excel spreadsheet set up for Microsoft Adcenter.