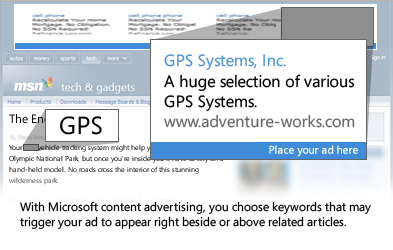 It appears that the Microsoft Content Ads are now generally available to everyone.
For Advertisers
Unlike search ads that are triggered by keywords a potential customer enters, content ads are triggered by certain words in articles or Web content. If you are bidding on those words, your ad might be displayed somewhere on the page.

And for Publishers
If you are interested in learning more about Microsoft's publisher program, just complete their form to keep informed about new developments, invitations to participate in focus groups or feedback sessions.
First introduced in August to beta testers, the content network gives people more reach on the MSN family of networks.
To learn more, check out:

Please SPHINN this story