If you want to check out how well your anger-management therapy is working, sign up for Microsoft's bCentral listbuilder program. And then try to get support for it. I have tens of thousands of subscribers on the system and it's going to be huge pain to move but they're not getting another dime from me. This is freaking nuts.
If you submit their support form, you'll get a cut/paste support response in a few days. This will be the stuff you already know. You will then have to reply to them saying that they didn't answer your question, and then you will get a response asking for something like your username and password, or something that you've already provided.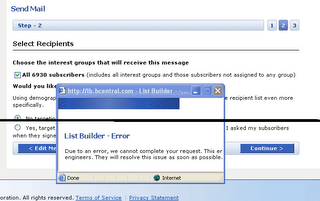 Should you want to cancel, the fact that you're logged in wiht your "highly secure system developed to the highest standards for privacy and security" Microsoft Passport to the account isn't enough. You'll need to call them on the phone… per this email:
"Thank you for writing to Microsoft Small Business Center Customer Support regarding your cancellation request. In order to protect the privacy and security of our customers, we require that all cancellations be handled over the phone in order to verify and validate account ownership.-your Microsoft Small Business Center Windows Live ID log in
-your telephone number
-and the full name of your Microsoft Small Business Center service for verification purposes
Thank you for understanding the concern we have regarding t he security of our customers. "
C'mon people, give me a big-assed cancel button and get out of my way. It's too late for you to stick me on hold and talk me into something. I'm running a busy company.
But, alas, there is no choice. If I don't do this, they'll charge my client's credit card AUTOMATICALLY and there is no way to opt-out. This whole system sucks. I cannot wait to get everyone onto verticalresponse.com
UPDATE: 10/27/06: The Final Chapter….
After successfully canceling the account, the agent told me, unprompted, that I was violating their terms of service by reselling the service. Huh? I had told him that my client was being billed directly (e.g. no markup) and that I was just helping her with the setup. I explained the concept of reselling to him. What in the world are they thinking to accuse me like that. I had told him I had (at one time) 15 clients on Listbuilder – wouldn't that make me like a Gold-card customer or something?
So, rather than construct a good reseller program (like verticalresponse.com seems to have, according to the call I received after my first post) they decided to accuse me of being some sort of renegade.
Update: Posted on the bCentral Site:
As of November 15, 2006 Microsoft will no longer accept new sign-ups for select Microsoft Online Small Business Services.
… that kinda explains it.